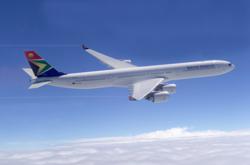 In line with our long term turnaround strategy, exceptional operational and customer service will be SAA's DNA forthwith. - Suretha Cruse
Johannesburg, South Africa (PRWEB) June 18, 2013
South African Airways (SAA) has been named the Best Airline in Africa in a global customer satisfaction survey. The announcement was made during the Skytrax World Airline Awards ceremony hosted at the 50th International Paris Air Show earlier today.
The Skytrax World Airline Awards are regarded as the most prestigious accolades for the world airline industry and provide global benchmark of airline excellence. This year is SAA's eleventh consecutive year of winning the Best Airline in Africa award; making South Africa's national flag carrier the most awarded airline on the continent.
Each year, Skytrax, an independent aviation research organisation, conducts a customer satisfaction survey among 18-million business and leisure air travellers from 160 countries to decide the award winners. The survey covers over 200 airlines, from the largest international airlines to smaller domestic carriers.
Over a 10-month period, air travellers complete an online survey questionnaire about their experience with airlines on the ground and onboard. The survey measures passenger satisfaction across 41 key performance indicators of airline front-line product and service including check-in, boarding, onboard seat comfort, cabin cleanliness, food, beverages, inflight entertainment and staff service.
"We are delighted that customers from across the world have, for 11 years in a row, voted us the Best Airline in Africa. It is a remarkable achievement that resonates with our vision, which is to be 'Africa's leading world-class airline'. We also acknowledge that a fundamental cultural mind-set change towards an efficient service-driven organisation is required in what is an extremely competitive industry. Hence, and in line with our long term turnaround strategy, exceptional operational and customer service will be SAA's DNA forthwith," said Suretha Cruse, Customer Service Executive at SAA.
SAA wins on average one award every month, having scooped six accolades since the beginning of 2013.
February 2013

SAA retained its 4 Star Skytrax Rating for the 11th consecutive year;
SAA was awarded the On-time Performance Service Award by Flightstats as the winner in the Middle East and Africa category;
SAA Cargo received the African Cargo Airline of the Year Award from STAT Times, which is an international award for excellence;
April 2013

SAA was awarded as the Top Performing Airline at the SA Tourism 4th Annual Ubuntu Awards;
In June 2013

SAA was awarded the Sunday Times Generation X Coolest Domestic Airline; and
SAA won the Skytrax Award for Best Airline in Africa, at the Skytrax World Airline Awards Ceremony.
ENDS -
About SAA
South African Airways (SAA) is the leading carrier in Africa, serving 26 destinations across the continent, as well as major destinations within South Africa and internationally from its Johannesburg hub. It is a member of the largest international airline network, Star Alliance. SAA's core business is the provision of passenger airline and cargo transport services together with related services, which are provided through SAA and its four wholly owned subsidiaries: SAA Technical; Mango its low cost carrier; Air Chefs, the catering entity of SAA and South African Travel Centre (SATC). SAA is the winner of the 'Best Airline in Africa' Award in the regional category for eleven consecutive years Mango and SAA hold the number one and number two successive spots as South Africa's most on - time airlines.
For more information contact:
SAA Group Corporate Affairs
Tlali Tlali
Executive: Group Corporate Affairs
Tel: +27 11 978 3819
Mobile: +27 82 333 3880
Email: TlaliTlali(at)flysaa(dot)com
Kabelo Ledwaba
Communication Manager (External)
Tel: +27 11 978 2760
Mobile: +27 83 414 4720
Email: KabeloLedwaba(at)flysaa(dot)com
Digital
Website: http://www.flysaa.com
Twitter: @flysaa
Facebook: http://www.facebook.com/flysaa