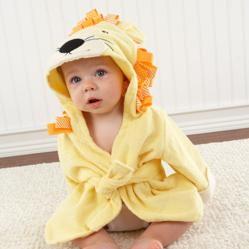 Atlanta, GA (PRWEB) June 21, 2013
Corner Stork Baby Gifts, the online store for top quality baby gifts, has added several precious new gifts to two of their popular collections. This gives online shoppers more choices for unique gift sets for friends and family.
Initially launched in January 2013, the adorable "Big Top" collection with a cute circus animal theme has been expanded to include four new products. The adorable "Lion Chomp and Stomp" baby gift set features matching bib and booties. A bib of soft yellow cotton has a sweet lion face with a big wide grin, fuzzy brown nose and a yellow polka dot fabric mane. The matching faux-fur booties resemble little lion paws complete with felt claws. The "Big Top Bath Time" Lion Hooded Spa Robe will make bath time special with hooded spa robe made of soft and absorbent yellow terry. The hood features a lion face, ears and mane of grosgrain ribbons. Adding to the collection is the "Big Top Baby" Trunk Show Tunic with Bloomers, this cool, sleeveless cotton tunic in circus colors embellished with bows, rick rack and elephant appliqué. The fourth addition in the collection is the three piece "Big Top Baby" Three-Piece Gift Set. The machine washable toys include a lion face wrist rattle, circus big top lovey and plush elephant toy.
Brand new for 2013, the "Tundra" collection consists of four unique gift sets featuring different arctic animals. Mom and baby will love the cute plush "Ice Caps" Penguin Plush and Hat for Baby. The furry penguin jingles and wears a hat that Baby can share. Both are embellished with chilly colors like lime green, blue and purple. The hat features soft pom-poms and faux-fur. A second gift set is the cute three-piece "Polar Pals" 3-Piece Tundra Gift Set. This set includes a toy, lovey blanket and penguin door hanger. The baby seal plush toy with rattle inside wears a knitted scarf in cool lime and purple. The blanket is warm fleece on one side and soft satin on the other. It is edged in pretty blue trim with tiny white dots. The third new product in this collection is the "Beary Snuggly" Luxe Polar Bear Snuggle Sack and Hat. The snuggle sack is made of ivory-colored luxurious faux-fur featuring a ribbed velour halter and tummy section. A "beary snuggly" applique is sewn onto the halter. Designed to be worn over clothing, it has a zippered bottom and snap closures at the shoulders for quick and easy changing. The matching hat is as cute as it is functional. It is a furry polar bear's head complete with bear ears and ear flaps that will keep Baby's ears warm and toasty in chilly weather. Corner Stork's last new item in this collection is "Moose Tracks" Moose Plush with Socks for Baby, an adorable moose stuffed toy that wears whimsical socks on all four feet for Baby. The moose toy is brown and beige velour with ribbed tummy and purple antlers. The colorfully patterned socks have non-slip traction for safety.
All of the animal toys and faces added to these collections have embroidered features for safety. All pieces are completely washable. In addition to these unique collections, Corner Stork Baby Gifts offers a full selection of unique baby gifts, clothing, baby shower favors and keepsake items that are available online.
About Corner Stork Baby Gifts
Corner Stork Baby Gifts is a premier baby gift store located online specializing in baby shower favors and unique baby gifts including baby blankets, baby clothes, personalized keepsakes and much more to help celebrate your new arrival.For a complete look at their selection please visit them online at http://www.cornerstorkbabygifts.com.
For Media Inquiries Contact
1-800-685-9072