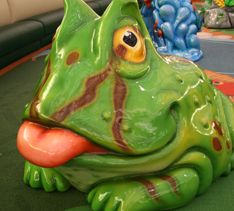 I can go to the Galleria Dallas play area, meet friends, shop, have lunch, come home and put the kids down for a nap. It's nice to be able to do multiple things in one place rather than just go to the park and go home.
Dallas, TX (PRWEB) June 20, 2013
As everyone at DallasMomsBlog knows all too well, motherhood can be an isolating experience. Long nights, nap times, sick kids and pure exhaustion sometimes make it hard for moms to motivate, get out of the house and connect with other women. That feeling of isolation is behind the blog's main mission to provide a sense of community to moms in the Dallas area, says the blog's owner Krystal Hurst.
"Our goal is to build community with organized play dates, moms nights out and date nights," says Hurst. In addition to its thriving online presence, the company helped celebrate the grand opening of Galleria Dallas' new playground for toddlers, which was designed, manufactured and installed by PLAYTIME, LLC.
"All of our writers are volunteers and they all said that they felt alone as moms," explains Hurst. "When they found DallasMomsBlog, they said they found a network and wanted to be a part of it. Many of our readers express the same thing. They say they didn't realize so many other people were going through the exact experiences and feelings that they were."
Hurst says that the blog hosted the booth at the Galleria Dallas play area because it's a place where moms can connect, give their kids some exercise and get their shopping done.
David O'Niones, Vice President of Sales for PLAYTIME, stopped by the DallasMomsBlog booth, met Hurst, and came away excited by their goals and outreach.
"It was great to talk to moms who use our play areas to plan play dates and to provide healthy exercise for their kids," says O'Niones. "It made me feel good about the product we create for parents and children."
PLAYTIME, LLC is a commercial playground company and the global provider of unique, interactive, soft play areas and playground equipment for indoor, outdoor and water play.
The new Galleria Dallas toddler playground is a one-of-a-kind, custom-themed play area. It replaced an older play area that was also very popular but smaller. The new play area also included some safety improvements that are being lauded by moms like Hurst.
"They used to have an entrance right near the escalator and kids would dart out of the play area onto the escalator," says Hurst. "They moved the entrance and they made some of the structures lower, which made me feel a lot more comfortable."
She adds, "Play areas in malls are so important for the mom community, especially here in Texas where it's only mid-May and it's already 90 degrees. I can go to the Galleria Dallas play area, meet friends, shop, have lunch, come home and put the kids down for a nap. It's nice to be able to do multiple things in one place rather than just go to the park and go home."