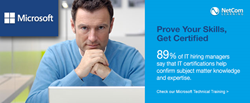 This interactive webinar provides information on current certifications in Visual Studio 2012 and an overview of the changes in debugging with the latest version of Visual Studio
New York, NY (PRWEB) June 19, 2013
NetCom Learning is offering a complimentary informational webinar on Advanced Debugging with Visual Studio 2012 on Thursday, July 11, 2013 from 1:00 to 2:00 PM EST. The webinar which will be led by Visual Studio MVP Danijel Malik, in conjunction with IT and business skills training leader NetCom Learning, will provide an overview of debugging in Visual Studio 2012. Topics such as multi-threaded and in-parallel debugging, IntelliTrace will be addressed in addition to a review of current Visual Studio 2012 MCSD certifications.
"This interactive webinar provides information on current certifications in Visual Studio 2012 and an overview of the changes in debugging with the latest version of Visual Studio," said Russell Sarder, CEO of NetCom Learning. "This webinar should be of interest to anyone who uses Microsoft Visual Studio or who is looking to attain MCSD certifications," said Sarder.
Microsoft Visual Studio is what is known as an integrated development environment or IDE which programmers and developers use to create both console and graphic user interface applications. The application includes a debugger that can be used at both the source level and machine level. In Microsoft Visual Studio 2012, there are enhancements to the debugging function including a simplified remote debugging process, new window displays for parallel debugging, and diagnostic events can be recorded using the IntelliTrace Debugging program.
In this session, we will cover:

Debugging in Visual Studio 2012
Multi-threaded/In-parallel debugging
IntelliTrace
Debug code that runs in production
Visual Studio 2012 MCSD Certifications
Q&A with Jason.
The featured speaker for the informational event is Danijel Malik. Danijel is an experienced Solution Architect currently working for SSW in located in Sydney, Australia. He was recently recognized as an MVP for Visual Studio ALM by Microsoft. Danijel specializes in project management, software architecture and design, software deployment and the development of large or enterprise wide ASP.NET MVC, WPF, Silverlight and Windows Forms applications. Danijel is also the owner and solution architect for Artifis Danijel Malik s.p. where he helps clients with software development, and provides tutoring and consulting. He holds a degree in computer science from University of Ljubljana.
This event includes a sneak peek at NetCom's acclaimed hands-on training program: Visual Studio 2012 Training Solutions (Also offered via Live Online delivery)
Why take your Microsoft training with NetCom Learning?
NetCom Learning is the top US finalist for 2013 Microsoft Learning Partner of the Year, in 2007 the company was chosen as winner of Microsoft Learning Partner of the Year from a pool of 1400 training companies. The leader in IT training provides the most innovative learning solutions including standard, boot camp, accelerated and customized training, and these offerings are available at NetCom Learning's three convenient locations, or anywhere in the world via Live Online or onsite training. NetCom Learning is the most trusted name in both business and IT training and offers top notch instructors with an average of 16 years of experience and vendor approved coursework offering certification preparation for a variety of vendor certifications. NetCom Learning instructors routinely achieve high ratings from their students with an average instructor evaluation of 8.6 out of nine, one of the highest instructor evaluations in the industry. The high quality of training has resulted in over 1,700 testimonials and a 96% customer satisfaction rate with those customers indicating they would recommend NetCom Learning to others. Recently NetCom Learning earned an NPS score of 65 which is much higher than average. NPS scores are used to gauge customer satisfaction and loyalty, a score of 50 is considered to be excellent.
Upcoming Visual Studio 2012/ .NET Framework Training Events
June 24 – MCSD: Windows Store Apps Using HTML5
July 22 – MCSD: Web Applications
August 17 - MCSD: Web Applications Boot Camp
August 26 – MCSD: Windows Store Apps Using HTML5
September 23 – MCSD: Windows Store Apps Using C#
September 30 – MCSD: Web Applications
To learn more about Microsoft Visual Studio / .NET Framework training visit http://www.netcomlearning.com/products/8/Microsoft-.NET-Framework-training.html?advid=412 or contact us at info(at)netcomlearning(dot)com or 888-563-8266.
Savings Programs
NetCom Learning offers savings program which provides different options for both organizational and individual clients to economically obtain the training they need.

Learning Voucher Pass is available to help organizations and individuals manage their training budget on a per day basis.
Learning Saving Pass provides flexibility and helps extend an organization's training budget, an organization prepays for training needs then NetCom Learning provides matching funds up to 100% based on the size of the purchase.
Learning Course Pass gives organizations the flexibility they need to get their staff trained in an economical manner that comes with customized reporting capabilities to track training expenditures and progress.
Sign up to stay current with your IT skills:
http://www.netcomlearning.com/webinars/644/Free-Webinar-Advanced-Debugging-with-Visual-Studio-2012-training.html?WebinarID=207?advid=412
About NetCom Learning
NetCom Learning is an innovative leader in IT, business and executive training to companies, individuals, and government agencies. Since its inception in 1998, NetCom Learning has trained over 80 percent of the Fortune 100, serviced over 45,500 business customers, and advanced the skills of more than 71,000 professionals through hands-on, expert-led training, with the organization maintaining an average instructor evaluation score of 8.6 out of 9. NetCom Learning was recognized by Microsoft Corporation as its Worldwide Training Partner of the Year and named twice to Inc. Magazine's list of fastest growing private companies in America. The organization was also recently named to the 2011 IT Training Companies Watch List by TrainingIndustry.com and was named "Company of the Year" by the American Business Awards.
The purpose of NetCom Learning is to promote the values of lifelong learning.