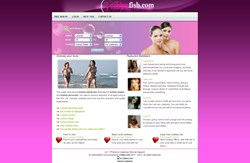 We dedicated to help connect lesbian and bisexual women over the past decade and we will do far more better for the years to come.
(PRWEB) June 25, 2013
LesbianFish.com, a leading dating site for lesbian and bisexual women, is proud to have been serving their members for over a decade now. Founded on June 25th, 2001, Lesbian Fish has quickly grown to be one most popular dating sites focused on lesbian and bisexual single women. Since its inception, Lesbian Fish has been advertising free, detail oriented and dedicated to a portion of the dating world that is often overlooked by other relationship sites and services.
Lesbian Fish offers multiple ways for members to interact with other members before and after joining and searching for that special someone. Options include an extremely active daily blog where members can offer anecdotes, tips on dating, questionnaires and general introductions. Currently the blog section features over 400 blogs and over 1,300 posts from various members.
The Lesbian Fish forums are another area that members can make their feelings and opinions known to other members and receive feedback. From relationships to general fun posts and to health and pregnant areas, the Lesbian Fish forums are a popular destination for members.
Lesbian Fish boasts an Alexa ranking, popular ranking service for web pages, of fewer than one million in the United States. Reaching the pinnacle of lesbian dating services has been a long road for the team behind Lesbian Fish, over ten years.
Signing up to become a member of Lesbian Fish is as simple as two steps. As always, it is 100% completely free to place personal ads on Lesbian Fish and is ad free- no intrusive pop ups, banners flashing or annoying ads to block members from interacting and enjoying the services available. Not all lesbian dating sites are created equally, find out for yourself why Lesbian Fish is one of the best.
About Lesbian Fish:
Founded on June 25th, 2001, Lesbian Fish has serviced the lesbian dating world for over a decade with no ads, no pop ups, no annoying banners- just high quality, well-educated members gathering to talk and mingle with other single lesbians and bisexual women. A deep understanding of lesbians and their wants and needs is at the heart of Lesbian Fish's business model; this is why the site has become extremely popular and indexed by many popular lesbian sites.