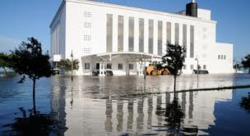 When Disaster Strikes...Strike Back!
Baltimore, MD (PRWEB) June 20, 2013
Preparation is key during the hurricane season, and knowing what to do if water damage was to ever intrude on commercial property will make the process easier. The more planning that is done the better the chances are for a quick recovery.
Since commercial properties are in the business of customer satisfaction, communicating hurricanes or any natural disaster damage and the effects it cause to employees and customers are of importance. Staff should be well practice on emergency response plans.
Inspect the property regularly, check plumbing and drainage systems, test sump systems, inspect roof drain outlets, make sure downspouts are away from the foundation and also check exterior walls of building for unwanted water leakage.
Water damage is unforgiving to electronics so be prepared if security systems and or medical equipment do not work. Definitely back up all files and be knowledgeable regarding insurance coverage; it could make a world of difference.
With each of these things in mind, if disaster does strike go about water damage in a professional way.
ServiceMaster by Singer is a full service restoration company serving the Baltimore Washington Metropolitan areas for over a decade. We are a leading restoration company providing Water Remediation, Fire Damage Restoration, Mold Remediation, Complete Construction Services, Storm Damage Restoration, Crime – Trauma Cleaning, Hoarder Cleaning, and Residential and Commercial Cleaning Services. Call for more info: 855-5-Singer