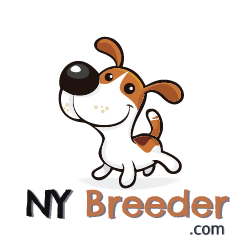 Customers who purchase a dog at NY Breeder are also guaranteed dog training advice throughout their years of dog ownership.
White Plains, New York (PRWEB) June 21, 2013
NYBreeder.com is pleased to announce the opening of their newest retail location in White Plains, NY. This store is designed to satisfy the needs of individuals and families seeking the ideal pet for their family. Only purebred and designer puppies that meet the most exacting requirements of their breed will be offered for sale in this new retail establishment. 
A major focus of NY Breeder's White Plains store is meeting the diverse needs of customers. The first step was the store owner's careful recruitment of a team of highly-trained animal lovers. All of our employee's enjoy engaging with customers about their current pets and recommending animals that could be a good fit for their household's needs. Working in different roles, NY Breeder's employees will strive to building relationships with pet lovers in the local Westchester community. They each bring their own diverse backgrounds to the sales team, including extensive experience in retail pet sales and dog grooming.
Although the new retail store will open at 45 Tarrytown Road, the team of customer-focused animal enthusiasts can meet the needs of clients throughout the New York metropolitan and Tri-State area. The store is a convenient place to stop in and learn about featured designer and purebred puppies, to get connected with pets that are more difficult to source in the NY market, and to access other pet-friendly features, including dog grooming and a full line of natural dog and cat foods. Our hand picked groomers will offer the friendliest professional pet grooming to Westchester customers. The team at NY Breeder brings years of experience serving all breeds of dogs in the Westchester area. 
New York customers should expect the highest quality of puppies when they make a purchase from this attractive new location. Each of the purebred puppies Westchester is intended to meet the needs of the most discerning canine owners. "Customers who purchase a dog at NY Breeder are also guaranteed dog training advice throughout their years of dog ownership," says Aiden Maisonave the general manager of NY Breeder. For example, they are encouraged to ask questions about their new puppy and to take advantage of their free lifetime training program provided exclusively by NY Breeder. In addition, customers can choose from a complete selection of supplies for dogs and cats. These canine and feline products, including the store's line of natural pet foods, are guaranteed to be the lowest in the local market as the owner is determined not to be undersold by competitors. 
NY Breeder is a full-service pet store with designer, teacup and purebred puppies for Westchester, NY and the tri-state area.
For additional information, please visit http://www.nybreeder.com.