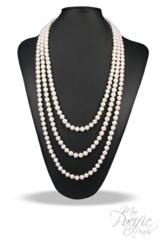 Dallas, TX (PRWEB) June 19, 2013
My Pacific Pearls, a retailer that features top quality pearl jewelry at rock-bottom prices, introduces the Great Gatsby collection. Each week this June, My Pacific Pearls offers a variety of Gatsby-inspired pieces at bargain prices, all of which are showcased online.
The collection is reminiscent of the elegant vintage style worn by Daisy Buchanan in the 1974 motion picture The Great Gatsby, and reprised by Carey Mulligan in the 2013 remake. Featured classic pieces range from exquisitely crafted diamond drop pearl earrings to a stunning ten-strand pearl necklace that can be draped in a myriad of ways. Coincidentally, the pearl is the birthstone of June, which makes this month's deals particularly appealing.
My Pacific Pearls, a farm-direct supplier of pearls, provides high quality classic, contemporary and unique pearl products. This family-owned company guarantees the most affordable prices, and each piece is hand-made to ensure quality control.
My Pacific Pearls uses social media sites like Facebook to promote each week's deal. A Facebook contest is being held where entrants must submit a Great Gatsby inspired photograph for a chance to win beautiful pearl jewelry from the collection. Browse through the selection, and learn more about My Pacific Pearls by visiting the website.
About
My Pacific Pearls is a family-owned company and a global leader in the pearl jewelry industry. All items in their collection are offered at the lowest price, guaranteed anywhere in the retail world. My Pacific Pearls' jewelry is known for classic and unique designs, as well as exceptional quality. Each item is accompanied by custom packaging and a professional prepared Certificate of Authenticity and Valuation. To learn more, visit http://www.MyPacificPearls.com.