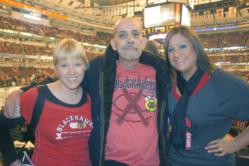 This incredible Blackhawks ticket package includes two tickets, a parking pass and unlimited food and drinks, and can be bid on via the Hospice Dreams Facebook page.
(PRWEB) June 18, 2013
Seth Gillman, founder of Passages Hospice, has donated two tickets to Game 5 of the NHL Finals on Saturday, June 22nd to local nonprofit Hospice Dreams in a gesture of support for Hospice Dreams and the hospice philosophy. The tickets are available on Ebay in listing #330942101401 or via the Hospice Dreams Facebook page at http://www.facebook.com/hospicedreams.
"There's no better expression of the hospice philosophy than the life-affirming work of Hospice Dreams," Gillman said. "I'm always looking for opportunities to give hospice patients and their families the chance to find comfort at the end of life."
Hospice Dreams is a nonprofit wish-granting organization dedicated to fulfilling unmet wishes and improving quality of life for adult hospice patients. It has fulfilled more than 250 Dreams in Illinois, Michigan, Wisconsin and Missouri over the past five years and was named the Midwest Small Charity of the Year by the Stay Classy organization.
The Blackhawks tickets package for Game 5 includes two seats in the BMO Harris Club in the west end of the United Center, giving fans an all-you-can-eat gourmet buffet and open drink package, including beer, wine, cocktails, soft drinks and coffee. The BMO Harris Club features a lounge atmosphere with couches, flat screen TVs, pool tables and other amenities to give fans an outstanding game experience. Winners of the tickets receive exclusive seats at a table facing the action on the ice. The package also includes a parking pass.
"These tickets will help a lifelong Blackhawks fan have the time of their life," Gillman said, "While giving hospice patients the chance to have the time of theirs."
"I'm not worried about missing the game," Gillman adds, "Since it's a good cause and I know they'll be back next year."
Gillman founded Passages Hospice in 2005 in honor of his late grandmother. Since then, Passages has served more than 7000 families from eight office locations, providing expert, individualized hospice care. Passages Hospice is dedicated to providing patient- and family-centered care with unique offerings like the My Passage video memory program, Passages Through Time dementia program and the Walking With You video series. Passages Hospice has an A+ rating with the Better Business Bureau and was an Honorable Mention in the Torch Award for Marketplace Ethics last year.
To bid on the tickets, search Ebay listing #330942101401 or visit the Hospice Dreams Facebook page at http://www.facebook.com/hospicedreams. For more information, call 888-741-9132.