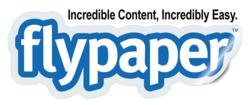 "Flypaper Go combines the power of that content creation with the new Flypaper CMS, and other great tools, to create, manage and deliver your digital content within a single environment."
Cincinnati, Ohio (PRWEB) June 21, 2013
Flypaper Studio announced that the recently introduced Flypaper Go will be on display at Cisco Live! The complete, end-to-end digital software solution will be featured on a ZIVELO kiosk at the trade show in Orlando on June 24th - 27th.
"Our content creation software makes it easy to create dynamic, interactive digital content," says Flypaper President and Founder Don Pierson. "Flypaper Go combines the power of that content creation with the new Flypaper CMS and other great tools to create, manage and deliver your digital content within a single environment."
Flypaper will be showcasing these digital signage products at Cisco Live! on a dedicated, interactive kiosk in the ZIVELO booth, number 1129. Representatives from Flypaper, including Pierson and Global Sales Director Joey Hacker, will be on hand to give demonstrations and answer questions.
About Flypaper™ Studio, Inc. and Trivantis Corporation
Flypaper™ Studio, Inc. is a wholly owned subsidiary of Trivantis Corporation. Flypaper is a leading content creation platform that empowers users to create, share, track and reuse high-impact, interactive graphics and video content. The user edits and manipulates components without complicated programming. Trivantis' flagship product is Lectora®, the world's leading e-learning software. Lectora is used by Global 2000 companies in more than 125 countries and is available in six languages. Trivantis Corporation is headquartered in Cincinnati, Ohio, and has offices in Boca Raton, Phoenix, Paris, London and Beijing. Trivantis, Lectora, Flypaper, CourseMill®, Snap! By Lectora® and Snap! Empower are trademarks of Trivantis Corporation.
Website: http://www.Flypaper.com
Phone: 1.877.929.0188 / +1.513.929.0188
About ZIVELO
ZIVELO is the industry leading manufacturer of kiosk and digital signage technology hardware with over 250,000 square feet of manufacturing facilities and more than 200 employees. Being US-based ensures the highest quality of product as well as rapid turnaround of product delivery. ZIVELO kiosks can be found around the globe, with over 100 resellers and distributors throughout the US, Canada, Europe, South Africa and Australia. ZIVELO's clients span numerous industries and include organizations such as Coca-Cola, Nike, Siemens and the US Government.