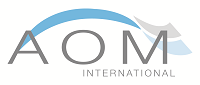 "AOM does what they say. We achieved a 34% productivity improvement in one department and 17% over the whole of Customer Service and Operations. It paid for itself in 9 months. It's simple, it works and it will last"
(PRWEB UK) 21 June 2013
AOMi, today announced they will be showcasing AOM™, the innovative approach to operations management, focusing front-line managers and their staff on the achievement of quality and service levels at the optimum cost, at the following conferences: NOA's Outsourcing Works Symposium, Reform's Annual Conference, PPF Best Practice Seminar and IQPC's Business Process Excellence Conference.
AOM transforms the typical top-down, data-driven, command-and-control management style into a collaborative, method-driven, bottom-up culture, where good decisions are made daily at the heart of the operation. AOM achieves the above by driving a fundamental and lasting change in management behaviours.
Operations that implement AOM realise significant benefits very quickly, including:

Increased control over the operation - allowing active, confident choices to be made at all levels of management
Identification of spare capacity - used to drive change, develop skills, improve service and quality and drive significant productivity improvements in the region of 15%–40%
Increased strategic choice
And the initial results are just the start—organisations using AOM consistently achieve year-on-year benefits, which form the basis for a more efficient and effective business overall.
AOMi believes that driving operational excellence is a beneficial competitive differentiator available to organisations because it is both a source of competitive strength and of cost savings.
Conference information:
NOA's Outsourcing Works Symposium - 'Prove it, Improve it, Reinforcing the Value in Outsourcing'
4 July 2013
Radisson Blu Portman Hotel, London
Reform's Annual Conference - 'Complete modernisation of our public services'
11 July 2013
PPF National Best Practice Seminar
23-24 November 2013
The Point, Lancashire Cricket Club, Old Trafford
IQPC Innovation & Business Transformation For Financial Services
21-23 October 2013
London, UK
Schedule a briefing with an AOMi expert at these conferences: Those interested in scheduling a one-to-one meeting with AOMi should contact enquiries@activeops.com.
For more information, case studies and a video about AOMi, please visit: http://www.activeops.com/
About AOMi:
Active Operations Management International (AOMi) developed Active Operations Management (AOM) specifically for service operations. AOM provides organisations with a structured and consistent operations management capability that is the catalyst for achieving operational excellence.
With global operations in six international regions, AOMi is a world leader in the improvement of performance in service operations. AOM has been adopted in over 35 countries by clients who recognise the value of consistent operations management; over 40,000 of our clients' employees are actively managed by the AOM approach. Reflecting our global reach since forming in 2005, AOMi received the Queen's Award for Enterprise in 2011.