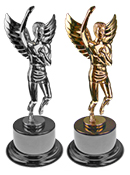 DALLAS, TX (PRWEB) June 19, 2013
Hermes Creative Awards announced winners for the 2013 international awards competition for creative professionals involved in the concept, writing and design of traditional and emerging media. Hermes Creative Awards recognizes the outstanding work in the industry while promoting the philanthropic nature of marketing and communication professionals.
For this 2013 Hermes award season, the Sama Agency won a total of 6 awards; 2 Platinum, 2 Gold and 2 Honorable Mentions--including 1 for Cystic Fibrosis of NY Print Marketing Collateral. "Winning the top Platinum honor for Integrated Marketing Campaign for Spectra's Bigger Than Life campaign as well as Platinum for the Print Brochure Category is a tremendous honor," stated Fran Sharkey, CMO, SMS Marketing Services, Inc./The Sama Agency. "I am especially excited to win the Gold Hermes Award for our new SMS Marketing Services, Inc. logo."
The Sama Agency (http://www.thesamaagency.com) is a division of SMS Marketing Services, Inc. (http://www.sms-inc.com), which is headquartered in Hasbrouck Heights, NJ. SMS Marketing Services, Inc. is a data-driven, multi-channel marketing company providing world class services across all verticals in the marketing industry.
There were over 5,600 entries from throughout the United States, Canada and several other countries in the Hermes Creative Awards 2013 competition. Entries came from corporate marketing and communication departments, advertising agencies, PR firms, design shops, production companies and freelancers.
Hermes Creative Awards is administered and judged by the Association of Marketing and Communication Professionals (http://www.amcpros.com). The international organization consists of several thousand marketing, communication, advertising, public relations, media production and freelance professionals. AMCP oversees awards and recognition programs, provides judges and rewards outstanding achievement and service to the profession.
AMCP judges are industry professionals who look for companies and individuals whose talent exceeds a high standard of excellence and whose work serves as a benchmark for the industry. Winners were selected from 188 categories grouped under advertising, publications, marketing/branding, integrated marketing, public relations/communications, electronic media and pro bono. About 15% of the entries won the Platinum Award - the organization's top honor. Nineteen percent won the Gold Award. A list of Platinum and Gold Winners can be found on the Hermes Creative Awards website at http://www.hermesawards.com.