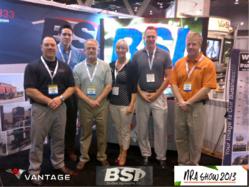 "If the industry didn't know about us before. They know us now," stated Kyla Godden, Regional Sales Manager for Vantage LED.
Chicago, IL (PRWEB) June 19, 2013
For nearly a century, the NRA (National Restaurant Association) Expo has brought together the best and brightest in the restaurant, foodservice and hospitality industry for four days of discovery, sourcing, networking and entertainment. This year it was held in Chicago, IL. The NRA Expo draws 58,000+ industry professionals from all 50 states and 100+ countries to Chicago each May—all seeking or showcasing the newest innovations and up-to-the-minute information about trends and issues. This year, Vantage LED partnered with Burton Signworks Inc. of Mount Airy, North Carolina to exhibit some impressive new technology and product options that are changing the way restaurants advertise locally and nationally.
Their booth showcased the dynamic performance of Vantage LED's display and software technology coupled with supreme service offered by Burton Signworks, Inc (BSI). Vantage LED, a U.S. based LED display manufacturer in Corona, CA had their Georgia Sales Team present to support their latest SERIES 51 product, which includes a 5 yr parts and on-site service warranty plus 1 yr of content creation and sign programming.
"Vantage LED has been a great partner for BSI to exhibit with; their expertise is always helpful and it shows our clients that we partner with true professionals. Vantage LED's industry leading warranty is a sure sign of the confidence in their own products," exclaimed Rich Banten Jr., VP of Sales and Marketing for Burton Signworks, Inc.
Burton Signworks, Inc. is a full service sign manufacturer and installation company strategically located in Northwest North Carolina that sells and supports Vantage LED products.
"Vantage LED has great confidence in BSI's execution for delivering our product with precision, timeliness, and superior customer service. They have become a strong dealer partner," stated David Bittenbender, Regional Sales Manager for Vantage LED.
Along with Vantage LED, BSI demonstrated some of the new features of the SM Infinity™ software. It resides on the Internet and allows the business owner to upload their content, request tailor-made content, and set message schedules for their LED sign. Other features include a mobile app, automated diagnostics, and Conditional Smart Scheduling.
Mr. Bittenbender commented, "Restaurant owners were very excited to experience the SM Infinity™ Software and the power it has to trigger specific messages from the temperature outside. The LED sign will automatically advertise messages like 'Ice Cold Lemonade' when the temperature increases or 'Hot Coffee' when the outside temperature drops."
Mr. Banten from BSI added, "The ability to control your advertising from anywhere for 2 to 200 different LED Sign locations from your iPad was very advantageous for the growth and expansion of their restaurants."
The NRA Show provides unparalleled opportunity for buyers and sellers to come together, conduct business and learn from one another, igniting the future of businesses, relationships and ideas. The 4 Day Expo proved to be a great experience for Vantage LED and BSI to work directly with a diverse range of industry professionals from corporations to independent owners.
"If the industry didn't know about us before. They know us now," stated Kyla Godden, Regional Sales Manager for Vantage LED.