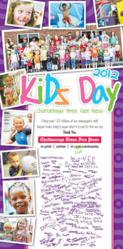 Chattanooga, TN (PRWEB) June 18, 2013
On Friday, June 21, over 400 employees at the Chattanooga Times Free Press and their digital media agency, Flypaper, are encouraged to bring their children and grandchildren to work as part of their annual Kidz Day Celebration and Employee Appreciation Day. Kidz Day gives children the opportunity to see what their parents and grandparents do all day at one of the top performing publishing companies in the country, while exposing them to the fascinating world of newspapers and online publishing.
Jason Taylor, president and general manager of the Chattanooga Publishing Company, states, "Our employees give so much of their lives to making this company great and one of the top performing newspapers in the country. We like to focus this day on looking at the bigger Chattanooga Times Free Press family, thanking their children and grandchildren for the commitment of their parents and grandparents and celebrating the dedication of our employees. Because, it is through their efforts that we have achieved our success year after year. Not to mention, it's a really great time for both the employees and their children!"
The employees' children and grandchildren will be shown the exciting, fast-paced world of newspapers and their digital counterparts. They will have guided tours of the facility, including an active printing press run of the following day's newspaper. Children will also have the opportunity to participate in newspaper-related activities, including making a pressman's hat, commonly worn by printers dating back to the 18th century, as well as a "newspaper throwing contest" to see who has the most accurate tosses to mock front doors as though they were on an actual delivery route.
Organizers want to promote the importance of a healthy and active lifestyle to the children by offering "Kidz Yoga", dodge ball, wall ball and a martial arts demonstration. As part of the company's health-conscious initiative, employees have access to a 24-hour gym across the street. Activities for the kids are set to run the entire day and include water inflatables, a video game trailer, karaoke, face painting and glitter tattoos.
About the company:
Flypaper provides digital marketing solutions for businesses and organizations throughout the Tennessee Valley. Partnered with the Chattanooga Times Free Press, an institution with over 140 years of serving the Chattanooga region, Flypaper has roots in the community and is invested in helping local businesses succeed in the digital age. Please see their website at http://www.flypaperchatt.com.