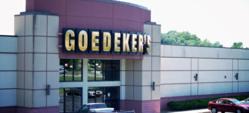 Ballwin, MO (PRWEB) June 20, 2013
Goedeker's has come a long way since beginning as a radio and television repair shop in the home of founder Ben Goedeker in June, 1951. 62 years later, now led by his son Steve Goedeker, Goedeker's has become a national appliance, furniture, and plumbing retailer. Their showroom, located in Ballwin, Missouri, a suburb of St. Louis, now also houses their growing web management and online customer service team to improve ever-increasing online sales.
Though now out of the television business, Goedeker's has become an authorized internet retailer for brands such as GE appliances and Delta Faucet Company. The company is constantly working to expand their inventory and better their customer service. Owner Steve Goedeker says, "I love that I have been able to continue my father's business and hold fast to Biblical values as the company grows." Goedeker's will continue to shift and adapt to changing business goals, but for over 60 years it has remained a quality, family-owned, value-based business.
About Goedekers:
Goedeker's has provided generations of Saint Louis residents with unbeatable prices on name brand kitchen appliances, laundry machines, home furniture, and mattresses. Well known in St. Louis for the ads that have run on local television for more than ten years, the Goedeker family believes in Christian values, and believes in the strength of the family. For these reasons, Goedeker's does not operate on Sundays. Both the local showroom and internet customer service & sales operations are closed on Sundays. Customers are free to place orders on Sundays, and our customer service team will be there on Monday morning to get things moving along.