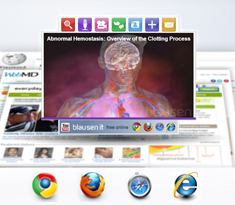 We at Blausen hope that one day all people will have free access to high quality educational content.
Houston, TX (PRWEB) June 20, 2013
According to MSNBC, about "80 percent of Internet users, or about 93 million Americans, have searched for a health-related topic online." Many people turn to Google for web searches, but get millions of results. Blausen.com, one of the leading medical animation and education companies in the world created a web application to simplify and expedite this process. The interactive web application, Blausen It, allows a user to type in a medical topic and in an instant they are connected to a single helpful animation. There are currently over 1500 available search terms and the number grows daily.
Blausen It is available at Blausen.com for interactive search and also as a browser extension for Google Chrome, Safari, Internet Explorer, and Mozilla Firefox. The Blausen It browser extension eliminates the need to use a search engine. Once downloaded, a user can access Blausen's animation library at any time by searching directly on any website for Blausen's key medical terms. The key words found on the website text link directly to a corresponding animation. To find out more on how this new technology works, watch the Blausen It demo.
The company, Blausen Medical, was founded by CEO Bruce Blausen in 1991 after seeing the impact rich media had on alleviating patients concerns during rounds. Over the next decade, Blausen Medical continued to produce custom animations and illustrations for clients, but with the success of the iPhone, the company immediately began utilizing this new format to reach an even larger audience. In 2009, Blausen Medical Communications released the Blausen Human Atlas for the iPhone. The company now reaches millions of patients, students, doctors and researchers worldwide on smartphones, tablets, and the web with products like the Blausen Human Atlas and Anatomy and Physiology App. Their hundreds of award-winning animations are available in over 17 languages and are now free to anyone using the Blausen it application.