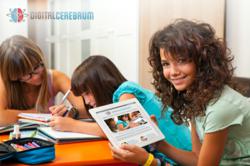 We are excited to offer Ave Maria Press ebooks to Digital Cerebrum users.
Adelanto, CA (PRWEB) June 19, 2013
Digital Cerebrum, a division of Flannery Company, has partnered with Ave Maria Press, Notre Dame, IN, to bring their eTextbooks to the Digital Cerebrum platform. Digital Cerebrum is an eReading platform designed specifically for the classroom.
"Flannery has been a trusted partner for years and we are pleased to be able to offer the digital versions of our textbooks on the new Digital Cerebrum platform," Karey Circosta, Vice President and Director of Sales & Marketing, Ave Maria Press.
Students will now be able to take digital notes, attach video and audio clips to their annotations, and increase their engagement with Ave Maria Press textbooks while collaborating with classmates and teachers at their schools. Digital Cerebrum allows students the opportunity to engage with their textbooks more deeply by helping them to organize their notes into personal study guides and vocabulary lists.
"This is a tremendous opportunity for all involved. Schools across the country have been embracing digital books, publishers are increasing their digital portfolio and Flannery Company has worked diligently to expand its breadth of e-offerings. We are excited to offer Ave Maria Press ebooks to Digital Cerebrum users; this will not only bring value to the student but to the entire classroom." Danny Contreras, CEO, Flannery Company.
Digital Cerebrum allows students to fully engage with their textbooks by allowing teachers to create study groups. Students can collaborate by sharing notes and helping each other understand the text directly from their personal devices.
Ebooks have become a mainstay in our society everywhere except for the classroom. With today's announcement, Digital Cerebrum and Ave Maria Press take one step closer to making ebooks a staple in schools nationwide.
"The digital transition has brought much improvement to the educational system but it has also been a source of frustration and confusion during the adoption process. The team members of Flannery Company and its subsidiaries work diligently with our partner schools to reduce and even eliminate difficulties when adopting ebooks. This model allows us to focus on the textbooks, so educators can focus on teaching and students can focus on learning." Danny Contreras, CEO, Flannery Company.
Digital Cerebrum is a subsidiary of Flannery Company, and was released earlier this year. You can sign up for a beta test at http://www.digitalcerebrum.com/launch.
Ave Maria Press, founded in 1865, is recognized as a leader in publishing Catholic high school religion textbooks, parish resources, and books on prayer and spirituality.