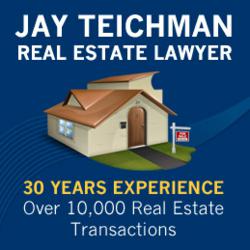 Toronto, ON. (PRWEB) June 19, 2013
Toronto-based real estate lawyer, Jay Teichman, has enlightened the public about his success in Toronto's condo market - one that is now riddled with doubtful expectations. The announcement arrives in the form of a marketing milestone - a new response rate of 175 leads per month, which is a personal trend that has continued for Jay for several months. Mr. Teichman released the news earlier this month to demonstrate the potential of the condo market and the power of search engine marketing.
Mr. Teichman is one of the few fortunate real estate lawyers who have managed to stay afloat in Toronto's unsteady condo market. Although the market seems to be riding on rough seas, he has been able to build and sustain a successful reputation with the guidance of online marketing.
In 2011, he approached Mill. St SEO, a full service inbound marketing company, that specialize in digital marketing services, such as search engine optimization and social media. Jay faced a major obstacle at the time - a lack of online presence an issue that often leads to the demise of those without strong branding and strategy. However, Mr. Teichman has maintained solid traffic by means of an engaging website and optimized content which the agency monitors regularly.
In addition to savvy marketing tactics, Jay's experience has allowed him to stand out in the field of like-minded legal firms and professionals who have yet to establish their own visibility.
As business continues in an upward direction, Mr. Teichman also plans to expand his range of services. The growth and stability of his practice has granted him a larger clientele, many of which have become noteworthy in their respective fields.
Over the past few years, Toronto has earned itself the reputation of being a 'condo-city' due to exponential growth in the market. Throughout 2010, 36% of Canada's condo sales occurred in the Greater Toronto Area, and most of these condos are located in downtown Toronto between Bloor Street and the waterfront.
In 2011, the market showed no signs of slowing down, and analysts predicted the trend to continue. Now, just two years later, the condo market seems to be heading towards a bust- a new trend that has left developers, investors, and real estate agents worried.
Although there are still hints of optimism for the condo market's resurgence, there are still some challenges that real estate agents and lawyers must face. Issues such as a decline in population growth and a 53% decline in sales (as of last year) will pose problems for those who have to represent real estate clients. For many of these professionals, a lack of marketing will render them hidden in a market that is already complicated. Jay's example, however, illustrates how a strong brand and thorough marketing can lead to success even when a market hits rocky shores.
About Jay Teichman
Jay Teichman is a real estate lawyer who has served the Greater Toronto Area for over 30 years. Along with his team, he continues to serve a variety of clients, including first-time homeowners and experienced real estate buyers and sellers. Jay Teichman emphasizes a one-on-one approach for those looking to buy homes and condominiums, and he also emphasizes the importance of making real estate transactions as simple as possible.