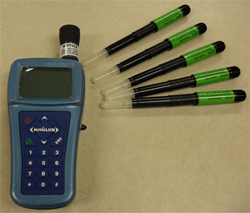 ATP readings are an industry-accepted measure to ensure standards of cleanliness in hospital and food service settings.
Aurora, IL (PRWEB) June 19, 2013
Aftermath Inc., the country's leading biohazard remediation company, announced today that it is outfitting each of its national remediation teams with Charm Nova-Link portable adenosine triphosphate (ATP) fluorescence testing units, adding a new level of cutting edge technology, measurability and accountability to its cleaning operations.
Aftermath, which provides cleaning and remediation services for unattended deaths, violent crime, suicide and hoarding, integrated this technology into each service call in May, providing customers with readings before and after service is complete to confirm biological cleanliness at the scene.
"This is an investment in accuracy and transparency," said Tim Reifsteck, founder of Aftermath. "The ATP reading shows the homeowner or property manager that the job was done correctly and that the remediation and cleaning processes sanitized surfaces to a microscopic level."
The Novalink ATP device measures cellular energy molecules that indicate the presence of organic material. ATP readings are an industry-accepted measure to ensure standards of cleanliness in hospital and food service settings. Acceptable levels of ATP vary by industry; for example, a level below 1000 RLU on stainless steel would be considered a passing level in food processing environments.
"When we remove all the visible biological material and fluids from a work zone, we perform the pre-test to understand how much biohazard is still a potential risk, unseen to the naked eye. Typically, there's still more work to be done," said Andrew Whitmarsh, operations safety trainer at Aftermath. "After the remediation is complete, we do a second test to ensure that the ATP levels are zero. That's how we guarantee that we have left an area completely remediated."
Aftermath is the first biohazard company to integrate ATP testing into its remediation processes. It was also an industry leader in establishing multi-stage bio-washing protocols to provide the highest levels of sanitation in trauma or bio-contamination jobs.
About Aftermath, Inc.
Aftermath, Inc. is the country's leader in biohazard remediation. The company's primary mission is to provide families and property owners with compassionate assistance during a time of tragedy. For more than 16 years, Aftermath has pioneered a sophisticated, science-based approach to remediation that protects the health and safety of people, and restores peace of mind for property.