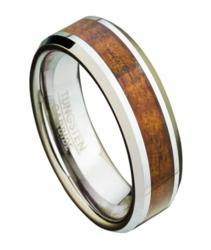 Now underway, JustMensRings.com's 4th of July Spectacular Sale allows shoppers to save up to 75 percent off on over 600 styles of men's rings, wedding bands and jewelry items.
Jensen Beach, FL (PRWEB) June 19, 2013
Independence Day savings start early this year with JustMensRings.com's newly launched 4th of July Spectacular Sale. With over 600 styles of men's rings, wedding bands and jewelry items marked up to 75 percent off, shoppers don't have to wait until the July 4th weekend to enjoy big savings. The sale is perfectly timed for grooms wanting to purchase wedding rings for their summer events, as well as men simply looking to inexpensively update their wardrobes for summer.
With the 4th of July Spectacular Sale already underway, many shoppers are also snapping up discounted items for birthday, anniversary and graduation gifts. JustMensRings (JMR) is known for offering everyday low prices on men's rings and wedding bands, but the additional discounts and free same day shipping have proven to be an irresistible combination for JMR customers.
The variety of rings and jewelry available at JustMensRings.com is evident in this special seasonal sale section. With a wide range of prices to suit virtually every budget, customers can enjoy savings on everything from designer precious metal wedding bands to affordable men's fashion rings to some of the trendiest items of men's jewelry.
Some of the newest and most popular items at JustMensRings.com have been included in the 4th of July Sale section, such as men's rings made with exotic Koa wood inlays, black cobalt chrome rings, trendy braided leather bracelets and affordable yet rich-looking two tone stainless steel wedding bands. The 4th of July Spectacular Sale also has items by US-based designer brand Benchmark, including a number of eye-catching men's diamond rings in a variety of traditional and contemporary styles.
"The 4th of July is a day that should be spent outside at a barbecue with family and friends," says JustMensRings.com's president and owner Roy Devine. "We started our 4th of July Spectacular Sale early so that our customers can get great deals on men's rings and jewelry without sacrificing any of their precious holiday time."
This special seasonal promotion is only for a limited time and while supplies last, and customers are encouraged to shop early to secure their favorite items. In addition to the deep discounts offered in the 4th of July Spectacular Sale, free shipping has been extended to all orders, with same day shipping on in-stock items. JustMensRings.com offers a 30 day money back guarantee on all products, as well as a manufacturer-backed Lifetime Guarantee on all designer men's rings.
About JustMen'sRings.com
At internet-only retailer JustMensRings.com, customers have come to expect the best possible prices on an extraordinary selection of men's rings, as well as the highest standards of service, selection and quality. The proof is in the numbers: Just Men's Rings (JustMensRings.com) now offers the largest selection of men's fashion rings online, and is the only store in the United States that offers men's large size rings up to size 20. Just Men's Rings leads the competition with an unparalleled assortment of unique and alternative men's wedding rings in a range of traditional and contemporary materials including gold, platinum, palladium, titanium, tungsten, silver, stainless steel, cobalt chrome and Seranite (or ceramic). Despite the recent rise in gold prices, Just Men's Rings continues to keep item pricing low and affordable, and shoppers would be hard-pressed to find better deals elsewhere. JustMensRings.com is dedicated to providing its customers with a simple and secure online shopping experience, and offers a 30 day guarantee and free shipping on all orders over $99.
For more information on Just Men's Rings, please visit JustMensRings.com.
For further information, please contact:
Roy & Judy Devine, Owners
800-797-9773
roy(at)justmensrings(dot)com