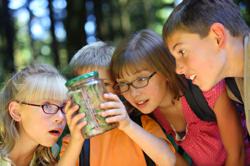 When it comes to sunscreen or any product that touches our skin, any chemicals in it will be absorbed into our bodies where they could potentially cause harm
Plantation, FL (PRWEB) June 19, 2013
Before reaching for that chemical laden sunscreen, bug repellant or plastic-ware for their children's summer camp outing, parents should consider the negative health effects that could be associated with all those toxins. Though many consumer brands contain chemicals that are deemed as safe, studies show the possibility for short and long term health effects from exposure to the toxins in many well known products. Chemicals which have been linked to negative health effects from reproductive issues to cancer are found in everything from personal care items to kitchenware. When preparing children for camp, it should be noted that "safe" goes beyond what a product does, to what's inside of it.
"When it comes to sunscreen or any product that touches our skin, any chemicals in it will be absorbed into our bodies where they could potentially cause harm," said President of Essential Safe Products, Hannah Helsabeck. "Which is why it's so important to choose natural, organic products over toxin laden ones."
A multitude of studies over the last decade which have tested for health hazards in sunscreen chemicals have found they could cause skin irritation or allergies, hormone disruption and skin damage. In addition, recent studies have found that the two most popular bug repellent chemicals, DEET and permethrin cause dire health concerns. Permethrin has been listed as a likely human carcinogen while DEET may cause rashes, headaches, and seizures (Repel Bugs Without Permethrin & Deet, April 29, 2013, Healthy Child, Healthy World).
Faced with the evidence, Essential Safe Products recommends some preventative practices to help people protect their children and families this summer:
1) Choose natural yet still effective sun protection – Many sunscreens today contain parabens (chemical preservatives), harsh solvents, alcohols, petroleum products and fragrance chemicals that have been linked to cancer. Instead, safer sunscreens made with the ingredients zinc oxide and titanium dioxide provides strong sun protection with few health concerns. Zinc oxide is both stable in sunlight so it will last longer than chemical ingredients, and is able to provide greater protection from UVA rays that any other sunscreen chemical approved in the US.
2) Reach for a toxin free bug spray – Instead of the commonly used chemicals, DEET and permethrin, natural botanicals make some of the best bug repellants. For example, the plant catnip has shown to be 10 times more repelling than its chemical counterpart, DEET, in keeping away critters. In addition, rosemary, citronella, cinnamon, peppermint oil and lemongrass oil are all effective.
3) Invest in safe reusable gear – When packing for a child for camp, parents should remember that many items used on a daily basis can contain harmful toxins. For instance, in many plastic products is a risk for exposure to BPA, phthalates and other chemicals which have been linked to health concerns. Known as EDCs (endocrine disrupting chemicals), they disturb hormones in the body and have been linked to issues such as infertility, susceptibility to breast and prostate cancer, and early onset of puberty. Safer options to plastics include stainless steel, glass, bamboo, and organic cotton. Summer items including water bottles, back packs, snack holders, lunch bags, utensils and even wet swimsuit holders can all be found in these safer material options, and can be reused all summer, making them economical and eco friendly.
Before sending children off to camp, parents should make sure they've fully prepared them for a toxic free stay. By choosing to let fewer chemicals into their lives, they are not only helping to protect their families, but also the environment from these substances. For summer camp essential ideas that are eco friendly and safe, visit LiveESP.com.
About Essential Safe Products (ESP)
Essential Safe Products is dedicated to helping people live eco friendly, healthy and non-toxic lifestyles. Started by a mother of 6 in her quest to find safe alternatives to toxin-laden products, the company shares invaluable knowledge and resources on their website, http://www.LiveESP.com. On a mission to positively influence people's lives, ESP is a one-stop source for trusted information and safer, more environmentally friendly products.