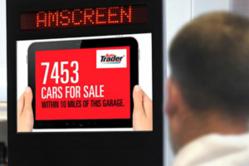 Auto Trader will use Amscreen's unique automated GEO+ technology to display cars for sale within a ten-mile radius of the selected forecourts.
(PRWEB UK) 19 June 2013
Amscreen, Europe's leading digital place based media network owner, has announced a partnership with Auto Trader that will see the UK's number one digital marketplace screen content across the network in a bid to drive sales. The campaign, which will run for six weeks, demonstrates how businesses are moving away from 'traditional' media outlets and embracing innovative advertising solutions in order to reach their target audience.
With the campaign being screened in over 1,300 locations across the UK, Auto Trader will use Amscreen's unique automated GEO+ technology to display cars for sale within a ten-mile radius of the selected forecourts. As the media landscape continues to shift, demonstrated by Auto Trader's imminent move from print to digital platforms, the ability to serve location specific real-time content on the Amscreen network will help to drive motor sales.
In addition to the location-based advertising, Auto Trader will also screen branded content on the network showcasing its digital platforms, benefitting from Amscreen's place-based media offering, which enables them to communicate directly with a motoring target audience.
Amscreen Managing Director, Jamie Lindsay, said: "We're very pleased to see an institution such as Auto Trader using our network to advertise. Through a combination of screening branded content and using our ad serving technology which automatically tailors one single piece of digital content for its location, they are able to cost effectively give relevant information to the customer looking at the screen."
Jonathan Williams, Consumer Marketing Director at Auto Trader, commented: "We are always looking for new and innovative ways to communicate with our target audience. With screens positioned in forecourt locations up and down the country and with the ability to adapt content so that it has a regional relevance, Amscreen has helped us to deliver targeted advertising that is more relevant to our audience."
Toby Foy from Carat said, "The scale and diversity of Auto Trader's customer base, means finding smart ways to reach the different target groups is essential. Amscreen has allowed us to achieve this through a combination of creative flexibility, and geographically targeted messaging."
About Amscreen
Amscreen is a worldwide digital outdoor screen network reaching 50 million adults each week via 6000+ screens - it's also the UK's largest single portfolio of digital screen media. Amscreen focusses on reaching audiences in high dwell, close proximity environments helping to deliver millions of viewers every day across the UK, Europe and beyond. These estates helping deliver this audience include forecourts (e.g. BP, Esso, Shell), national convenience stores (e.g. Londis, Spar) as well as WHSmith and GP surgeries throughout the UK.
Measurability and flexibility are at the heart of the Amscreen business helping to deliver an ad solution that now more closely reflects a convergence of 'Outdoor/Online'. This array of audience measurements and insights are obtained from EPOS, location, demographic and footfall data by the hour and by individual sites. These insights are then leveraged to deliver an array of creative solutions through Amscreen unique content delivery systems allowing day-part targeting, site specific (GEO), audience specific, live feeds, reactive advertising as well as automated localised content and much more.
Amscreen's recent rapid growth into the likes of Germany, Poland, Luxembourg, Switzerland and Austria reflects the rapid scalability of the technology, with complete screen networks being delivered and working in a matter of weeks