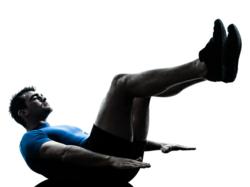 exercise anywhere and anytime without equipment or a gym
Northampton, MA 01060 (PRWEB) June 20, 2013
Pilates has been around for nearly 100 years. It is one of the most popular and effective fitness techniques. It is used by physical therapists and elite athletes all over the world.
And it has a reputation for being difficult, time-consuming, and expensive to learn.
A new website just changed all that! PilatesLessons.org introduces a new Pilates!
PilatesLessons.org features a breakthrough instructional method created by Bob Hannum, an advanced certified Pilates instructor for over 35 years.
Just released, PilatesLessons.org presents new video lessons in high definition and many years in the making, that teach Pilates in a new way, making it simple and safe to learn yet as rigorous as its creator, Joseph Pilates, originally intended.
Specially designed for any age, fitness level, or learning style, these unique online lessons enable a wider audience to enjoy the amazing benefits of Pilates.
"I exercise because I have to, so I want it to be quick and complete. The Pilates mat program is only 30 minutes and includes everything your body needs - cardio, strength training, and stretching. Very few exercise methods do this. Best of all it uses your own body for resistance so you don't need equipment or a gym. It's the original Pilates method - exercise you can do anywhere and anytime in the comfort and convenience of your own home or workplace."
Here's what customers say:

"Your class has always been the gold standard for Pilates for me and nothing I have tried has come close to comparing!" - Jane M.
"I tried Pilates twice before and the instruction was too complicated and overwhelming. Your instruction is easy to follow and makes Pilates simple to learn." - Paula B.
"After the first 15 minutes I felt like a totally new person....I have a history of back problems and now I'm pain free." - Trevor S.
"Just viewed the 1st 4 videos. I am really so very impressed. You have excellent presence, control, voice, timbre -- too many things I'd like to say here, and they really look great. Wow! Wonderful work." - Catherine H.
Visit http://www.PilatesLessons.org and try these new video lessons for free!
Taught by the "Pilates Elder" Mary Bowen, Bob Hannum is an advanced certified Pilates instructor specializing in the original mat exercise program.