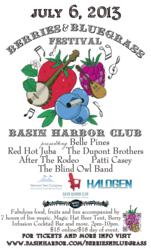 Our property is not just a festival venue but a unique, Vermont resort made for outdoor music events like Berries & Bluegrass.
Vergennes, Vermont (PRWEB) June 19, 2013
Vermont resort, Basin Harbor Club, has announced their final line up for their summer music festival, Berries & Bluegrass.
With 700-acres of classic Vermont landscapes and full service resort facilities, Basin Harbor Club is eager and excited to be hosting a Music Festival series this summer; beginning on July 6th with Berries & Bluegrass.
"We're excited for our festival schedule for 2013. With Berries & Bluegrass in July, BBQ Bonanza on August 17th and Rocktoberfest on October 19th, Basin Harbor is eager to get on the map as an annual festival host," said Jen Wyman, Director of Resort Marketing.
The festival will consist of seven hours of bluegrass and Vermont folk music, sponsored Magic Hat beer tent, a berry infusion cocktail bar and an impressive culinary spread inspired by the berries of the season.
"Our property is not just a stellar resort but a unique, Vermont landscape made for outdoor music events like Berries & Bluegrass," said Wyman, "We are happy to be partnering with our other Vermont sponsors, Magic Hat Brewing, Vermont Tent Company and Halogen Media.
Tickets Available until July 5th online: http://www.basinharbor.com/berriesnbluegrass
$15 online and $18 at the door.
Music Line-Up:
The Blind Owl Band
Patti Casey
After The Rodeo
The Dupont Brothers
Red Hot Juba
Belle Pines
The Vermont resort, located in Vergennes, has 3 dining locations, a golf course, tennis courts, biking and hiking trails, water sports and much more. To connect with Basin Harbor Club, "Like" them on Facebook or follow them on Twitter (@BasinHarbor).
About Basin Harbor Club:
Basin Harbor Club was established in 1886 by Ardelia Beach and has remained family owned for 127 years. Today, guests are greeted by fourth generation hosts, Pennie Beach and Robert H. Beach, Jr. and fifth generation Sarah Morris, Director of Sales. Originally a 225-acre working farm catering to summer boarders, the resort has expanded to cover 700 acres on Lake Champlain, encompassing the main lodge, cottages, a private golf course, spectacular gardens, a 3,200 foot grass airstrip and serving food grown by Vermont farmers. For more information, please visit http://www.basinharbor.com or call 1-800-622-4000.