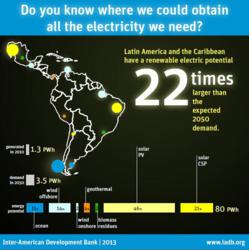 Though Latin America uses more renewable energy than any other region in the world, it faces difficult choices as it seeks to generate the electricityit needs to grow without harming the environment, said IDB President Luis Alberto Moreno.
Washington, DC (PRWEB) June 19, 2013
Latin America and the Caribbean's renewable energy endowment is large enough to cover its projected 2050 electricity needs 22 times over, according to a report commissioned by the Inter-American Development Bank (IDB).
The report, Rethinking our Energy Future, argues that lower prices and new technologies are making renewables a viable alternative. Solar, geothermal, wave, wind and biomass sources in this region could produce up to 80 petawatt-hour of electricity.
One petawatt-hour is equivalent to 1 trillion kilowatt-hour, roughly 3 times the amount of electricity Mexico consumes in one year. At present, Latin America generates 1.3 petawatt hour. By 2050, demand is expected to grow to between 2.5 to 3.5 petawatt- hour.
The report addresses a series of myths surrounding renewable energies, noting that several of these alternative technologies have become price competitive with conventional technologies, offer good investment opportunities and should be taken into consideration by policymakers aiming to diversify their national energy matrixes, reduce fuel supply vulnerabilities and cut greenhouse gas emissions.