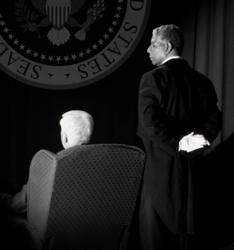 Modesto, CA (PRWEB) June 20, 2013
Modesto's new African American theatre troupe, Sankofa Theatre Company, will team with the Gallo Center for the Arts to present "Looking Over the President's Shoulder," a one-man play written by James Still, directed by Richard Mann, and performed by Dwight D. Mahabir.
The production is coming to the Gallo Center for three performances, July 12 – 14. Tickets are $10, $15 and $20, and may be purchased online at GalloArts.org, by calling (209) 338-2100, or at the Gallo Center ticket office, 1000 I Street in downtown Modesto.
"Looking Over the President's Shoulder" is the true story of Alonzo Fields, who accepted a job as a butler at the White House in 1931. His plan was to work there for the winter, but that winter lasted 21 years. Based on the memoirs of the grandson of a freed slave who grew up in an all-black town in southern Indiana, the play shows how Fields is forced by the Depression to give up his dreams of becoming an opera singer and take the job at the White House, where he quickly was appointed Chief Butler and went on to serve four U.S. presidents and their families: Herbert Hoover, Franklin Roosevelt, Harry Truman and Dwight Eisenhower.
Reviewing a 2009 production of the play with Mahabir, held at the Little Opera Hall in Modesto, columnist Lisa Renner of the Modesto Bee noted that accomplished actor and musical theater performer is "an engaging storyteller who makes history come to life… Sometimes he's serious, sometimes funny, sometimes angry. Through it all, he maintains an admirable dignity and strong sense of self."