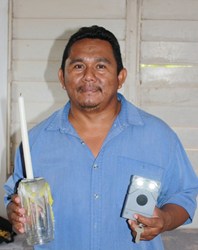 Firreburn, Corozal District, Belize Central America (PRWEB) June 19, 2013
He was teaching in a private school in San Pedro, doing pretty well, by local standards. Although he had attained a teaching certificate, he did not have a Bachelor's Degree which limited his potential and would not enable him to move up through the ranks in the teaching system.
Cormen dedicated himself to the task of obtaining that degree and after much hard work, dedication and faith, he did just that. Now faced with a choice of how to proceed in his future, Cormen took Robert Frost's proverbial "Road not taken".
Instead of moving up through the ranks of pay and prestige that most academics would follow, Cormen leaves his family in the nearest village with conveniences each week, in order to make the journey to a remote village called Fireburn. He returns on Friday after school. This is no ordinary commute.
The journey includes a road, two crank bridges, a 5 mile canoe trip, then a hike through the jungle. During the week he lives in a small room attached to the school house.
Fireburn has never had a student pass the basic Primary School Exam, yet Cormen felt that this post was his calling. Recently Cormen and every family in Fireburn received solar powered Lights from the Grid Earth Project, which, like Cormen, doesn't mind traveling the road not taken. Whether a village consists of one hundred children or 10, they all deserve the same chance at a safe education.
After just one year of teach in Fireburn three of the students passed the exam.
Where students were falling behind, education is now flourishing. Where others saw little potential, a teacher like Cormen Wupip proved that there is potential everywhere, no matter how remote. Thanks to the solar lights, no child will ever again risk their safety in order to read in Fireburn Village, and education will become easier than ever.
To find out more about the Grid Earth Project, visit http://www.GridEarth.org.