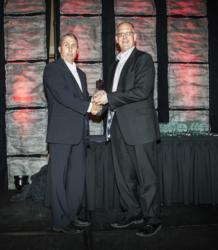 Brivo's unique offering of online access control systems is rapidly gaining traction with PSA systems integrators. This award is a testament to our members' growing acceptance of Brivo's cloud solutions. Craig Patterson, PSA Director of Vendor Management.
Bethesda, Maryland (PRWEB) June 18, 2013
Brivo Systems LLC, leader in cloud applications for security management, today announced that PSA Security Network selected the winners of their PSA Security Network Vendor Awards at the recently-concluded PSA-TEC 2013. At the conference, PSA members recognized Brivo Systems, LLC with their "Rising Star" award.
"The Rising Star Award is presented to the vendor partner who has shown strong potential for becoming a big player within PSA," explained Lisa Miller, PSA Director of Marketing. A number of criteria are used in ranking the PSA vendor companies, and Brivo scored above the average in most every category. The Rising Star award is given to the company that (1) has never won an award through PSA previous to this, and (2) scored highly in the rankings by the PSA member and owner companies.
In testimonials collected by PSA to support Brivo's case for Rising Star, Associate Real Estate Manager Anna Sharp commented, "This is the best access system I've ever worked with! Everything is so much better and it's so easy to manage from my remote office. I am very pleased with the Brivo system and I'll be recommending this system and the installing dealer, GSSC, to my colleagues."
"Brivo's unique offering of online access control systems is rapidly gaining traction within the PSA network of systems integrators. The Rising Star Award Brivo received is a testament to our members growing acceptance of their cloud solutions, as well as the high level of service and support they provide," said Craig Patterson, PSA Director of Vendor Management.
Ron Oetjen of Intelligent Access, a security systems integrator, remarked, "Working with the Brivo team this year has been great. We wanted a partner who could update our managed access platform and who would be with us every step of the way as we migrated to the new platform. The Brivo team has gone out of their way to help up to this point."
"While we have been in a relationship with PSA for a number of years now, the momentum has really escalated in a positive direction over the last 24 months. We were somewhat uneducated on the proper ways to effectively deal with PSA and all of its member and owner companies, but with our renewed focus and energy, we've seen both our relationship and sales blossom," said Dave Williams, Brivo Director of National Accounts. "We are absolutely thrilled about receiving this award and it firmly demonstrates our continued dedication to PSA not only as a customer, but as a highly-valuable channel for delivering our goods and services."
PSA Security Network is the world's largest electronic security cooperative with members responsible for over $2 billion annually in security, fire, and life safety installations. These leading security systems integrators specialize in the design, installation, integration, and maintenance of access control, video surveillance, intrusion detection, fire, and life safety systems (http://www.buyPSA.com).
For more information on Brivo Systems, contact Brivo toll–free at 1-866-692-7486, option 1 or email sales(at)brivo(dot)com.
About Brivo Systems
Brivo Systems LLC is a SaaS-based security management systems provider for organizations that need to protect and remotely monitor buildings and perimeter entry points. When introduced in 2001, Brivo's web-hosted physical access control system was a unique solution—after a decade of evolution and innovation, it still is. Brivo's groundbreaking physical access control and video solutions empower organizations by giving administrators real-time device control, including immediate visibility of security events and video in local or remote facilities—anytime, anywhere.
The company's innovative, secure, and open architecture-based products and services enable businesses to protect people and assets, comply with regulations, and improve business operational efficiency. These scalable systems—whether standalone or appliance-based or cloud-based—offer a solution for every type of business. Brivo's security management products are a market-proven fit for commercial office buildings, warehouses, retail stores, manufacturing plants, and sensitive areas, such as server rooms or R&D labs, where real-time control and accountability of entry are important.
With headquarters in Bethesda, MD, Brivo is a wholly-owned subsidiary of The Duchossois Group, a privately held holding company headquartered in Elmhurst, Illinois, which also owns other industry leaders such as AMX, The Chamberlain Group, and Milestone AV Technologies. Duchossois also holds strategic interests in Churchill Downs, Inc., and a number of other diversified businesses.
For Media queries:
Bruce J. Doneff
Public Relations
(843) 476.3022
bruce.doneff(at)brivo(dot)com
For Brivo Systems, please contact:
Rajeev Dubey
Senior Director, Marketing
301.664.5251
rajeev.dubey(at)brivo(dot)com