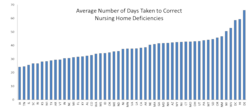 New York, NY (PRWEB) June 19, 2013
Nursing homes across the country are expected to follow minimum standards of care when it comes to Health and Fire Safety, though state-by-state, standards do vary. There are two mechanisms to flag deficiencies in standards at nursing homes: state health inspections and complaints lodged by residents, their family members or nursing home staff.
ElderBranch has analyzed over five years of Medicare data across all approximately 16,000 nursing homes in the U.S. to better understand these deficiencies and variations in performance across the country.
Nursing Home Deficiencies by State
On average, each nursing home logs 6.4 deficiencies every year. This number varies quite a bit state by state, with Colorado, Washington D.C., Delaware and Wyoming as the worst offenders in this regard. On the other hand, Louisiana, Maine, Rhode Island and South Dakota reported the fewest average number of deficiencies.
Most Prevalent Types of Nursing Home Deficiencies
ElderBranch's analysis revealed that the five most common forms of deficiencies are: Quality of Care, Environmental, Resident Rights, Pharmacy Service and Resident Assessment. Administration and Nutrition/Dietary deficiencies are not far behind, occupying the #6 and #7 spots.
Correction of Nursing Home Deficiencies
After deficiencies have been identified, it takes 36 days on average for nursing homes to correct them – for both severe and non-severe deficiencies. While this seems like a reasonable amount of time for non-severe issues, for severe issues where residents are at significant risk, nursing homes should take action much sooner.
The average number of days till correction varies quite a bit depending on the state. Nursing homes in Delaware, Hawaii, Washington D.C., West Virginia, and New York take on average the longest to correct deficiencies. Iowa, Tennessee, Illinois, South Carolina and Rhode Island performed the best on this measure, taking the least average number of days to remedy issues raised via health inspections or complaint surveys.
About ElderBranch
ElderBranch is an online information portal that helps people find and evaluate long-term care providers. ElderBranch's mission is to support users in making the best decision possible for themselves and their loved ones.