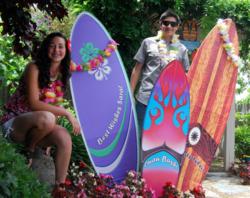 South Whitley, IN (PRWEB) June 18, 2013
Beat the Heat
Pinatas are fun for all ages! Use water balloons as balls in a fun game of dodgeball. Not only is it a classic group game it will help cool off your guests as they enjoy themselves. Water balloons can also be turned into piñatas that surprise the player with a shower of water when they break the balloon. Or add a regular piñata as another game to play.
Make the Decorations a Game
Place small favors in balloons that way each child is able to break a balloon and earn a favor. Any small favor in a balloon can turn a regular balloon into an individual piñata for each of your guests. If you would rather not pick up the pieces of broken balloons then hanging gliders would be another option. Before the activities the gliders make fun decoration. During the activities it is quite simple to have a glider flying contest. Simply take them down and see who can throw theirs the furthest.
Angry Birds
If you want to integrate some bird slinging and pig popping fun into your party, an Angry Birds party would be right on target. With decorations and tableware to fit this theme, you can make sure only the birds are angry at your party. You can create your own levels for your guests to defeat. Set up blocks in fun configurations and fling your bean bag birds to try and knock them all down.
Hawaiian Party
Personalized Surfboards from Shindigz! Break out the leis and grass skirts and have a luau this summer. Invite your guests to participate by donning Hawaiian print shirts, grass skirts, and as many leis as they want. With a few surfboard and palm tree standees any space can look like an island paradise. To add to the fun have a limbo or hula hoop contest to see who has the most island spirit.
Even the pickiest tweens will find themselves having fun at your party this summer.
About Shindigz
Shindigz makes life more fun for 22 million events through the manufacture and sale of personalized party supplies. It ships products from its facilities in South Whitley, Indiana across the United States and around the world to 59 countries. With more than 36,000 products, it has been providing customers with complete party solutions since 1926. For more personalized birthday decorations and favors, visit Shindigz.com.