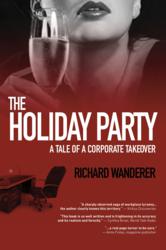 It reads like a movie.
Los Angeles, California (PRWEB) June 25, 2013
Simon Barrett began his review, stating, "I spent more than 30 years working in Corporate America, I lived through various mergers and takeovers. There are two basic components, the 'screwer' and the 'screwee'. Joining two corporate different visions, values and modus operandi rarely results in one big happy family! Almost always there is a period of corporate bloodletting that occurs, the higher up the organization you are, the more tenous your position becomes."
Barrett said that author Richard Wanderer lures readers into The Holiday Party (A Tale of a Corporate Takeover) with his skillful writing.
"What I like about this book is the author's wonderful storytelling ability to explore nuances of the human psyche when Corporate Worlds collide", Barrett wrote.
From there, Barrett goes onto recap the plot of Wanderer's suspenseful novel's two unlikely suitors: two family members who wish to keep the magazine, Gladstone, and the huge media conglomerate, the Ballard Media Group.
Barrett describes the relationship between the two entities, the takeover target magazine and the takeover media conglomerate, writing, "At the very best of times this looks like a marriage made in hell. A corporate joining of the loins that can bring little pleasure to those involved with Gladstone."
The review also analyzes several of the novel's fictional characters, including Daniel Davenport, Barbara Martinez Blessington, and Forest Green along with his assistant, Victoria. Barrett comments that he is highly impressed with Wanderer's ability to build such complexities and depth into his characters and plot line in a novel that is just shy of 300 pages.
"The Holiday Party (A Tale of a Corporate Takeover) is a wonderful read, a skillful telling of a story. Even the title holds a secret. I had assumed that Richard Wanderer had selected the title for cynical reasons, a takeover being anything other than a Party! I was wrong, the title is most apt. I will not share the reason why, that, I will leave that up to the reader to discover," Barrett wrote in the review.
To read the full review, visit Simon Barrett's blog
at http://www.bloggernews.net/129605
Richard Wanderer's fictional suspense novel, The Holiday Party (A Tale of a Corporate Takeover) http://www.theholidayparty-ataleofacorporatetakeover.com has many strong appraisals in addition to Simon Barrett's review. Kirkus Reviews calls it, "A sharply observed saga of workplace tyranny"; San Franciso Book Review, "Page-turner"; MidwestBook Review, "Highly recommended"; IndieReader, "Suspenseful"; Bookviews by Alan Caruba, "Leaps off its pages." Published by Two Harbors Press, the novel is in softcover and also available on Kindle and Nook.
About Richard Wanderer and his novel:
Richard Wanderer spent over 50 years of his life working in the advertising sales departments of major national magazines in NYC and LA. Later in life, he also became a lawyer and a member of the California Bar. His characters and situations are often an amalgamation of scenarios he encountered over the years and his active imagination. The Holiday Party (A Tale of a Corporate Takeover) deals with the takeover of a family owned national magazine, run in an employee friendly manner, by a huge media conglomerate that installs a Draconian thrift regime.