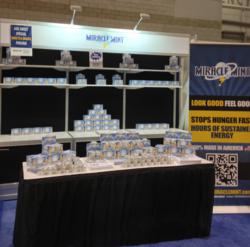 "We are absolutely thrilled with the response to Miracle Mint® from the Sweets & Snacks Expo," said Bert Bedrosian, CEO.
Beverly Hills, CA (PRWEB) June 19, 2013
Miracle Nutraceuticals debuted their breakthrough product, Miracle Mint®, at The National Confectioner's Association's Sweets & Snacks Expo to an incredible response. The Sweets & Snacks Expo, held from May 21-23, 2013 at McCormick Place, is the confectionery and snack industry's most successful event. More than 15,000 professionals in the industry from 70 countries attended and more than 550 exhibiting companies displayed over three acres of candy and snacks. Miracle Mint® was one of the most exciting products throughout the expo and the booth was crowded with attendees sampling and discussing the innovative mint throughout all three days.
"We chose the Sweets & Snacks Expo to debut Miracle Mint® because it is the biggest event in our industry. We couldn't pass on the opportunity to present Miracle Mint® to so many important names in the industry all at once. Plus, we knew once people sampled the product and learned the benefits they wouldn't be able to stop talking about it," said CEO Bert Bedrosian. The benefits of Miracle Mint® are vast. Miracle Mint® nutritionists and chemists have created a safe and effective product that suppresses appetite, boosts energy and enhances focus and alertness. The mints are made with high-quality weight loss and energy ingredients, using a proprietary, patent-pending encapsulation and layering process.
Over 3,000 samples of Miracle Mint® were distributed throughout the expo and there was never a slow moment in the Miracle Mint® booth. "It was amazing to see how many people came back the next day and said they were able to skip dinner the night before. We were constantly asked for extra samples for people to pass on to their friends and relatives back home. We are absolutely thrilled with the response from the Sweets & Snacks Expo and we can't wait to participate again next year," said Bedrosian of the experience at the expo.
Miracle Mint® is the brain child of Bert Bedrosian, whom over the past several decades has had many successful entrepreneurial pursuits including CAP Cities ABC partnership, MTV's first licensed product and the origination of MTV's worldwide branding and licensing division, Viacom, Raleigh Berhad (Raleigh Bicycles), LeRun Industries, X-10, Brown Bavari, Healthlink and Volta International just to name a few.
For more information on Miracle Mint® visit http://www.mymiraclemint.com.
###