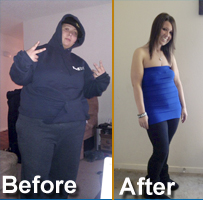 Getting the Laparoscopic Sleeve is the best decision I ever made. Dr. Patel is the best! I refer everyone to him! says Lona
San Antonio, Texas (PRWEB) June 19, 2013
Dr. Nilesh A. Patel of Texas Bariatric Specialists (TBS) announced today that after years of social anxiety patient, Lona Helge, landed her dream job, as a result of her decision to get Bariatric Surgery. Lona's new-found confidence has pulled her strides ahead as she continues to climb the corporate ladder with the determination of creating a future for her and her son.
Lona Helge grew up in an overweight family and started gaining weight at the young age of 6. She ate mostly starches, her favorite being macaroni, along with protein and veggies. "I thought we ate pretty normal," Lona said. She also participated in the local gymnastics team right up until the age she started putting on weight because the other children started making fun of her. The name-calling did not stop there; Lona's bullying continued through Middle School with names thrown around such as "Jell-O". Due to the constant pestering, Lona started having really bad social anxiety. "It freaked me out to go out anywhere or with anyone," Lona proclaimed. The only activity she continued to participate in, before joining the work-force at age 15, was band.
Eventually, Lona decided to do something about her weight gain and tried the LA Weight Loss diet. The diet started great! She dropped down to 180 lbs., her lowest weight in a long time. Soon afterwards, though, she got pregnant and the weight started to creep back on. On top of that, staying at home with the baby on a tight income only managed to further demotivate her and stall progress.
Once she was able to return to work, Lona had trouble finding herself a job. "People judged me during the hiring process because of my weight," Lona said. The discouragement didn't stop there. Lona was soon diagnosed with diabetes and had to be put on Metformin. She was worried, all she could think about at this point was her little boy's future, "I wanted to be healthy and able to play with him as he grows. I never want to be the 'Big Mom' at school."
Lona wanted a Bariatric surgeon; but she didn't want just anyone, she wanted the best of the best! She searched around a bit but didn't like any Doctor except Dr. Patel and the team at Texas Bariatric Specialists. "Dr. Patel was the most experienced," said Lona. After her meeting with Dr. Patel they came up with the surgery that would be best for her, the Laparoscopic Sleeve.
Upon completing the procedure, Lona lost the weight fast and her career goals started to take shape. She started off working at the Toyota plant, but her real dream was to be a pharmacy technician. She submitted a few applications and waited for a few months without response. She almost gave up; but all of a sudden, she not only booked three interviews but got all three positions! From the pharmacy technician position, she soon was promoted to an inventory specialists. Lona doesn't have to be embarrassed about her weight anymore. She travels to 15 different locations for work and everyone wants her to come to their store! Not only has she overcome her social anxiety, but she has enough energy to work through her 12 hour work days. "I am tired at the end but before there would have been no way! If I stood on my feet for just 3 hours, my feet would've been so incredibly swollen! I would just come home, crash, & do nothing," she exclaimed.
Lona's eating habits have also changed as a result of her Laparoscopic Sleeve and her own personal dedication towards success. After her healing process, Lona began to allow herself to eat anything she wanted, just in moderation. "I am only 26 years old. If I want to eat Mexican food, I will. I just eat a small amount and bring home a box," she adds. Lona even loves going shopping again! She can fit into a size 4 and her family is thrilled! Lona says, "My son doesn't call me 'fat mommy' anymore and my husband loves that he has a hot wife!"
It's been a rough road but Lona would not change a thing. "Getting the Laparoscopic Sleeve is the best decision I ever made. Dr. Patel is the best! I refer everyone to him!"
About Texas Bariatric Specialists
Founded by Dr. Nilesh A. Patel, MD, a nationally recognized and fellowship-trained bariatric surgeon, Texas Bariatric Specialists (TBS) is a holistic Bariatric Surgery practice focused on delivering long-term weight loss solutions for patients. Dr. Patel specializes in surgical weight loss procedures including Lap Band Surgery, Gastric Bypass, Gastric Sleeve, Gastric Band, and the revision of failed weight loss surgery, which have resulted in over 2,500 surgeries exceeding the national average of successful weight loss management. With a commitment to surgical expertise, compassionate care and exemplary preoperative and postsurgical consultative services, Dr. Patel and his staff at Texas Bariatric Specialists ensure successful weight loss management for their patients through long-term relationships to support good health. Offices are located across major cities throughout Texas including San Antonio, Austin, Corpus Christi, New Braunfels, Seguin, Boerne, Kileen, Temple, Del Rio and Laredo. For more information, or to book a free informational seminar, please visit http://www.texasbariatricspecialists.com.