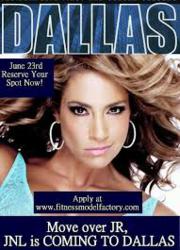 Jennifer Nicole Lee loves to make other people's dreams come true, and this is why she created her now world famous "Fitness Model Factory 1 Day Mega Events!" She will be working with a select group of women who apply through www.FitnessModelFactory.com
Dallas, TX (PRWEB) June 25, 2013
Jennifer Nicole Lee the visionary and creator of the Fitness Model Factory mega-brand and traveling production, will be making a special celebrity appearance in Dallas this June 22-23 weekend 2013. She created the Fitness Model Factory seminar and photo shoot opportunity to "give a voice and a platform to the real women in the wellness and fitness industry that are often overlooked, silenced and censored by the harsh fitness industry".
Her co-host is Nissa Salas, a JNL Fusion weight loss success story, JNL Fusion master trainer, and now budding author, as she is soon to wrap up her book "From Sick to Sexy".
Jennifer Nicole Lee loves to make other people's dreams come true, and this is why she created her now world famous "Fitness Model Factory 1 Day Mega Events!" She will be working with a select group of women who apply through the Fitness Model Factory website for the Dallas TX 1 day mega event, with special after event rooftop pool party.
Jennifer Nicole Lee is known to produce big events, and she likes big things, big events, and big news. She has stated that "small things make me shrink inside, and I don't like impotent subjects or productions. My motto is go big or go home. And yes, the bigger the better. It take the same amount of energy to focus on small goals as it does big goals. So, I only do my productions up big, and only invite the best, and work with the best." Next up on JNL's super packed busy agenda is her big celebration on July 23rd in Dallas with some of the most powerful women who she has handpicked.