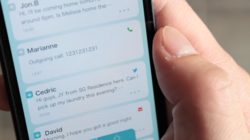 (PRWEB) June 19, 2013
All in One Inbox
Swingmail is a mail/messaging app that aggregates Gmail, Facebook and Twitter messages as well as phone calls all in one inbox. Unlike traditional messaging apps, Swingmail is designed specifically for the use of smartphone. The app will reduce the number of messages in your inbox to the bare necessity by filtering spam, junk, FYI CC messages, etc. to allow users to only receive prioritized messages that would require immediate attention and replies.
Receive, Reply, Done
Receiving and replying messages with Swingmail will be instantaneous, thanks to its unique technology in pushing messages from the server side. This instant messaging service will be available through monthly subscription of Premium Plan (price to be announced).
Prioritized Contacts and Messages
Swingmail's filtering technology offers its users a "smart" inbox where messages are prioritized based on user's communication patterns. Swingmail's filtering algorithm looks up and matches with user's past messaging data in consideration with whom, when and where to communicate to provide a prioritized list of messages in its inbox. What's more, it grows even smarter as the usage increases with more receiving and communication patterns.
Swingmail Inbox Checker
For those who are not yet convinced of all the benefits Swingmail can offer, there is a simple web based service called Swingmail Inbox Checker. With the use of the same Swingmail Smart Inbox filtering algorithm, it will allow a trial user to evaluate how much more efficient his inbox usage can be without downloading an app. http://swingmail.co/checker
Future Enhancements
Furthermore, numbers of functional enhancements for Swingmail such as push messaging service for business and public services are being planned for the future release. Swingmail will also be available in web based service as well as Android smartphone platform later in 2013. It will also add more communication services such as LinkedIn, Yahoo! Mail, etc.
Swingmail Demo Premiers at ICT Spring Europe 2013
BHI Inc. will be exhibiting demo version of Swingmail at ICT Spring Europe 2013 (http://www.ictspring.com), which takes place at LUEXPO in Luxembourg from June 19 to 20, 2013. Swingmail demo will be presented throughout these dates and can be found at Booth A57. In addition, there will be Swingmail Inbox Checker demo and also available at the booth.
Special Guaranteed Download Offer with Pre-registration
At its launch, a tremendous number of download requests is expected. In order to assure comfortable usage of Swingmail, a waiting list may be set up to limit the number of users who can download an app. From today until its scheduled release date, early registration users will receive a guaranteed download offer. Swingmail pre-registration page can be found at: http://swingmail.co/register.
About BHI Inc.
Founded in Tokyo on March 11, 2013, BHI creates new lifestyle values in smart information utilization. By aggregating, filtering and optimizing to reconstruct vast personal information that continues to grow in daily email transactions, social media usage, etc., BHI's mission is to provide relevant and more usable messaging services to samartphone users.
Contact
To learn more about this app, please contact:
Jun Inoue, PR/Marketing
BHI Inc.
2F 2-2-28 Higashishinagawa, Shinagawa-ku, Tokyo 140-0002 JAPAN
Mobile: +81-90-2947-4517
pr[at]swingmail[dot]co
Website: http://swingmail.co
Facebook: http://www.facebook.com/swingmail