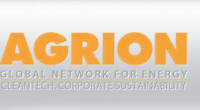 If you drive your Prius like a Maserati, you're not going to get great gas mileage. This holds true for the building environment."
New York, NY (PRWEB) June 19, 2013
In the wake of natural disasters like Hurricane Sandy, some of the world's most influential organizations have started to pay closer attention to climate change, global infrastructure and grid reliability needs. Accounting for weather intensity and securing energy interests through storage, efficiency, and new generation technologies will be a challenge for stakeholders in the building management space. According to Nicholas J. Davis, Managing Director of AGRION, "We do not see this uncertainty as a setback - rather we view it as an opportunity for utilities, contractors, developers, financiers, building managers, and thought leaders to get involved in projects that use significantly less energy and account for variable environmental and economic conditions."
In order to bring together the most powerful players in the industry, AGRION launched the Zero Net Energy Buildings (ZNEB) Taskforce in San Francisco earlier this year. The goal of the taskforce is centered on identifying and overcoming political, financial, regulatory, and environmental hurdles to successfully adding more zero net-energy or net positive buildings around the world. After discussions on the West Coast with organizations like the California Public Utilities Commission, Arup, and Sacramento's Municipal Utility District (SMUD), AGRION took the task force to New York in May.
As part of its Green Buildings Day, AGRION's New York office brought together panel speakers from AECOM, Skanska, the Economic Research Service (ERS), and others for an active discussion on best practices for net-zero energy buildings. Beth Heider, Senior VP of Green Markets at Skanska, pointed out that even relatively energy efficient buildings can over-consume if property managers and tenants are not adhering to best practices – "If you drive your Prius like a Maserati, you're not going get great gas mileage. This holds true for the building environment."
Now that the foundation has been put in place, the next in the series of meetings for the ZNEB Taskforce is set to take place in San Francisco on June 26th.
AGRION provides a platform for members to connect, exchange ideas, and identify business opportunities. Through weekly meetings in offices around the world, AGRION members can determine critical business drivers, explore innovation, and realize sustainable growth in a world challenged by resource constraints, climate change, and evolving political landscapes. To learn more or create your own profile, visit http://www.agrion.org.