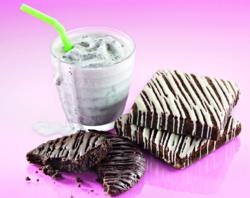 We almost didn't create a video for the milkshake because the recipe is so simple.
Phoenix, Arizona (PRWEB) June 20, 2013
Take a quick break from summer activities and cool down with delicious snacks made with Fairytale Brownies treats.
Fairytale's new Summer 2013 catalog will arrive in homes this week, and tempt customers with a cover photo and recipe suggestion for a Fairytale Mint Chocolate Milkshake.
A cool Mint Chocolate Cookie is blended with all-natural vanilla ice cream and milk to create a frosty combination of creamy goodness.
Fairytale's Summer catalog is the last of the spring series of catalogs featuring a recipe using a Fairytale Brownies gourmet product. A QR code is provided on page 2 to access the recipe and DIY video showing how to make the milkshake, or visit brownies.com/recipes.
"We almost didn't create a video for the milkshake because the recipe is so simple," co-founder Eileen Spitalny said. "But those who watch the video want to make a Fairytale milkshake after viewing it! The milkshakes are pretty tasty - and slip another cookie in for an extra minty taste."
Another simple recipe to keep cool this summer is the Fairytale Brownies Ice Cream Sandwich. A 3" x 3" gourmet brownie is sliced horizontally, stuffed with creamy natural ice cream, wrapped in waxed paper and frozen until ready to serve.
Fairytale Brownies has prepared how-to videos for both the milkshake and the sandwiches for viewers' drooling pleasure. Customers can create their own recipe variations as well.
ABOUT FAIRYTALE BROWNIES: The company has been baking brownies since 1992. Every batch is made by hand using a secret family recipe. The brownies, cookies and bars are all natural, baked with the finest ingredients such as imported Belgian dark chocolate, farm fresh eggs, pure creamery butter, and dark brown sugar. Each brownie, cookie and bar is individually wrapped and certified kosher dairy.