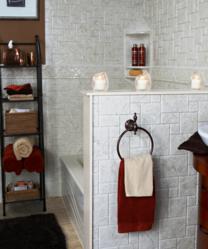 Glendale Heights, IL (PRWEB) June 19, 2013
The 2013 ISH exhibition, held in Frankfurt, Germany, showcased top global bath trends, focusing on consumer experience through sensory comforts, universal bathroom design and personalized, stylish storage. According to Kitchen & Bath Design News, bathroom remodeling company Luxury Bath is utilizing ISH's hottest global bath trends through its unique bath products and new bathroom design.
Sensory Appeal
Bath products on display during the ISH exhibition revealed manufacturers are embracing the senses when it comes to bathroom design. Taking advantage of the latest bath trends, Luxury Bath's spas and whirlpool tubs provide the ultimate sensory experience. The bathroom remodeling company features large whirlpool tubs that offer water jets and warm air message for the ultimate spa experience. Other options include Luxury Bath's deep soaker tubs that providing users with a soothing bath, without whirlpool jets.
Stylish Storage
Providing stylish, personalized storage for the bathroom was also popular among bath trends at this year's ISH exhibition. For better bathroom storage in the tub and shower, Luxury Bath provides customizable soap dishes and tower caddy bath products. Available in the bathroom remodeling company's different bathroom design options, Luxury Bath's shelves store and organize all the bathing essentials.
Universal Design
While personalized storage was popular during the ISH event, products with universal bath design also struck a chord with customers and manufacturers. Showcased throughout the event were bath products that meet the needs of all ages and abilities with ease of access. When it comes to universal bathroom design, Luxury Bath's walk-in tubs and showers provide aging in place solutions for the young and young at heart. Its walk-in tubs and showers allow for easier and safer bathing access, without the hassle of a high sided tub.
Classic vs. Contemporary
Both classic and contemporary styles of bathroom design were featured during ISH. Inspired by both bath trends, the bathroom remodeling company uses contemporary and classic styles in its bath products. Customers can choose from different tub and shower wall patterns, including the company's contemporary Subway and Piazza bathroom design options. Both create an ageless asymmetrical contemporary bathroom design, while other patterns like the 4x4 foot squares and Rosette patterns offer a more classic symmetrical bathroom look.
Stay informed on the latest bath trends and styles by visiting LuxuryBath.com.
About Luxury Bath
Luxury Bath (http://www.luxurybath.com) has been providing one-day bathroom remodeling updates and ideas since 1991. Supplying over 900 different bathroom remodeling companies across North America, Luxury Bath offers customers new bathroom ideas and provides high quality affordable bath remodeling products.
About ISH
Celebrating 50 years, ISH (http://ish.messefrankfurt.com/frankfurt/en/besucher/willkommen.html) is the world's leading trade fair for The Bathroom Experience, Building Services, Energy, Air Conditioning Technology and Renewable Energies. The world's leading trade fair covers all aspects of future-oriented sustainable sanitation solutions, innovative bathroom design and energy efficient heating and cooling technologies.