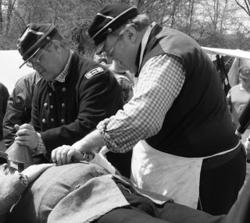 Galena, IL (PRWEB) June 21, 2013
The 17th Corps Field Hospital's goal is to educate the public about the medicines and medical practices used throughout the Civil War.
Examine the role of physicians, nurses, and caregivers during this time period as you observe medical demonstrations and visit the traveling medical museum. Participate in a medical inspection and receive training for life in a field hospital or role play as a wounded soldier as you get treated by members of the 17th Corps Field Hospital.
The tentative schedule of events is as followed with each session running approximately 20 minutes: 10:30 am - Pharmacy Demonstration. Pill making and pharmacy of the age are demonstrated to the public. 11:30 am - Medical Demonstration. This demonstration session provides the public with an understanding of minor surgery such as a bullet or other object extraction. 1:30 pm - Recruitment Session for Children. This session for 1st to 8th grade students simulates the questions required to medically approve a soldier in 1861. Students go to "stations" for approval. Each student is provided a free, suitable for framing certificate. 2:30 pm – Major Surgery Demonstration - This session demonstrates brain surgery and amputation to the public. The session debunks the "myths" of Civil War surgery including "Bite the Bullet" and "Alcohol for Anesthetizing Patents".
For more information on Galena and Galena events, please go to http://www.VisitGalena.org.