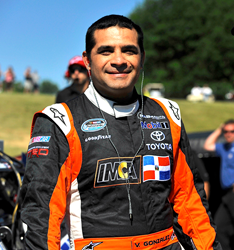 I will be introducing NASCAR to Puerto Rican and Dominican Republic fans who will become a new breed of Hispanic NASCAR fans
Sonoma, CA (PRWEB) June 19, 2013
By making NASCAR history this weekend as the first Caribbean driver to drive in a NASCAR Sprint Cup Series race, Victor Gonzalez, Jr. will introduce NASCAR to millions of new Hispanic racing fans in the Caribbean. When Gonzalez Jr. gets behind the wheel of the #36 Chevrolet for Tommy Baldwin Racing in the Toyota/Save Mart 350 at Sonoma Raceway on Sunday, June 23, 2013, an untapped Hispanic market will have a local hero to cheer on.
"NASCAR has done a good job developing a Hispanic fan base in Mexico and South America, but there are many different kinds of Hispanic racing fans out there," Gonzalez Jr. says. "I will be introducing NASCAR to Puerto Rican and Dominican Republic fans who will become a new breed of Hispanic NASCAR fans."
Gonzalez, Jr. is a Puerto Rican native who now races for his resident country, the Dominican Republic, and has developed a large fan base in both countries. "There are 15 million people living in the two countries, and another 6 million Puerto Ricans and Dominicans living in the United States," Gonzalez, Jr. says. "That is more than 21 million people who I want to help become fans of NASCAR."
As Gonzalez Jr. notes, Formula One racing has been more popular than NASCAR in the Caribbean to date, a situation he intends to remedy. "Puerto Rican and Dominican race fans are used to the road courses from other racing circuits, so having me drive the road course at Sonoma will be a great introduction for them to NASCAR's highest level," Gonzalez, Jr. says. "It will help to have one of their own to cheer on, and I hope to make them proud."
About Victor Gonzalez, Jr.
Victor Gonzalez, Jr. previously made history in 2009 when he was the first Caribbean driver to compete in a NASCAR Nationwide Series event, finishing 14th in his debut in the 2009 running of the NAPA 200 at Circuit Gilles Villeneuve in Montreal, Canada. Gonzalez Jr. returned to the Nationwide Series for four races in 2010, making his oval track debut at Phoenix International Raceway. In 2012, Gonzalez raced in the Nationwide Series at Road America and at Watkins Glen International.
In addition to his NASCAR experience, Victor Gonzalez Jr., has won over 30 races and multiple championships in various road racing classes internationally, and 2012 won the national championship in his new naturalized home of the Dominican Republic. For more information on Victor Gonzalez Jr., please visit him on Facebook, Twitter or Instragram.
Victor Gonzalez, Jr. is available to interviews. Media queries and interview requests, please contact Kendall Almerico at kendall(at)clickstartme(dot)com or 813.410.4658.