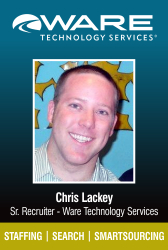 Minneapolis, MN (PRWEB) June 19, 2013
Ware Technology Services, an Atterro company, is proud to welcome Christopher Lackey as its newest Senior Recruiter in its Houston office. Lackey will be responsible for providing engineering and technical talent solutions to businesses in the Houston area. He excels at developing effective recruiting strategies, documents and trainings to ensure quality placements for his clients in the energy and oil and gas industries.
Clay Morel, President and CEO of Atterro Human Capital Group, states "Chris has an impressive background in helping organizations develop and drive their business in the areas of human resources, strategic planning and best practices. His experience will help Ware extend its reach to more businesses in this vital market."
Susan Rylance, Senior Vice President of Professional Services at Atterro, adds, "It is a pleasure to welcome Chris to the Ware team in Houston. We believe our clients in the energy, oil and gas industries will appreciate his expertise and dedication to filling their staffing needs."
Lackey earned his Bachelor of Science degree in Industrial Technology and Construction Technology from Texas State University.
Atterro Human Capital Group offers interim staffing, search and SmartSourcing services to local, regional and national customers. Atterro's experienced industry professionals utilize the latest research, recruiting technology and assessment tools to serve clients through its four specialty brands—Digital People Creative, Interactive and Marketing, Hunter Hamilton Finance and Accounting, Pro Staff Administrative and Light Industrial, and Ware Technology Services for Engineering. Visit http://www.atterro.com.
Contact:
Steve Brentlinger
Marketing Director
email: Steve(dot)Brentlinger(at)atterro(dot)com
ph. 612‐373‐2600
Atterro Human Capital Group
651 Nicollet Mall, Suite 525
Minneapolis, MN 55402
http://www.atterro.com