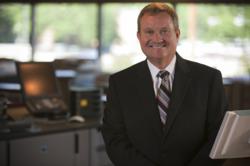 All the credit goes to the many knowledgeable and dedicated employees of Loffler Companies.
Minneapolis, MN (PRWEB) June 25, 2013
Jim Loffler, President and CEO of Loffler Companies, is recognized in the top ten of the "Top 40 Most Influential People in the Imaging Industry" by The Week in Imaging. The biyearly ranking considers a variety of individuals who operate as groundbreakers and mentors in the hardware, solutions and services sectors of the imaging industry. The Week in Imaging is an online, interactive one-stop news, information and commentary source on imaging and office technology industries.
"I'm proud to be honored with this recognition as one of the 40 most influential in this business. All the credit goes to the many knowledgeable and dedicated employees of Loffler Companies that take pride in being experts in their field and give their clients the best recommendations for productive and cost effective solutions," says Jim Loffler, CEO and President.
Loffler Companies is the leading business technology and services provider in the upper Midwest. Supporting clients in the effective implementation of business solutions with its knowledgeable and dedicated team of IT and Document Workflow professionals, Loffler Companies provides integrated office technology and services partnered with leading brands such as Canon, Konica Minolta, HP, Toshiba, Microsoft, NEC, OCE, ShoreTel, EMC, and VMware. Its offerings include multifunctional copiers, printers, managed print services, IP telephone systems, IT managed services, document management, dictation, call recorders, and on-site managed FM services.
A family-owned and nationally recognized leader in business technology and service, Loffler Companies has a 26-year history of giving back to the community, recently winning a prestigious Jefferson Award for Public Service. Loffler supports many great causes including the Susan G. Komen Race for the Cure (Gold Sponsor), American Cancer Society, Ronald McDonald House, VEAP (Volunteers Enlisted to Assist People), Memorial Blood Centers, Cornerstone, thinkPINKkids, Feed My Starving Children, Catholic Charities, St. Joseph's Home for Children and more.
About Loffler Companies:
Loffler's 330 employees support clients in Minnesota and Western Wisconsin that are local, national, and international in scope. Visit http://www.loffler.com or call 952-925-6800 to discover how Loffler can provide winning technology and service solutions for your business or organization.