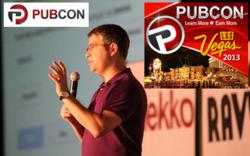 Austin, TX (PRWEB) June 19, 2013
Pubcon Las Vegas 2013, the premier social media and optimization conference, will feature a major keynote address by Google's popular head quality control engineer and webspam team leader Matt Cutts.
For over a dozen years, Cutts has led many major webspam and engineering initiatives that have helped propel Google to becoming one of the world's most successful businesses, and beginning in 2004 he has also been a popular Pubcon keynote speaker.
"During Pubcon Las Vegas 2013, the search marketing event of the year, Cutts will deliver a keynote presentation featuring his unique and always-fascinating Google insider's take on the world's most popular search firm and the future of search, likely followed by a rare period of question and answer time with Pubcon audience members," said Pubcon founder and chief executive Brett Tabke.
Register for Pubcon Las Vegas 2013 and join Cutts and more than 200 additional top speakers featured in over 150 sessions within at least ten daily conference tracks, and find out why Forbes recently named Pubcon a must-attend conference. Pubcon will also announce two additional top industry keynote speakers in the coming weeks, including a very special kick-off keynote.
Pubcon also offers a popular optional Pubcon Masters Group intensive training program, featuring four updated premium tracks dedicated to Google and Facebook advertising, social media marketing, search engine optimization (SEO), and corporate in-house SEO.
"Pubcon Las Vegas 2013 will be a great week of unrivaled optimization and social media exploration and learning with our biggest and strongest session lineup ever, and with Cutts offering his special perspective during a major keynote, you'll want to be among the many thousands who will take over sunny Las Vegas on October 21 – 25 at the massive Las Vegas Convention Center," Tabke added.
Registration is available now at early-bird registration rates for Pubcon Las Vegas 2013, the biggest search and social media conference ever this October in one of the world's most exciting and entertaining cities.
Learn more about Matt Cutts' keynote and register at http://www.pubcon.com.
About Pubcon
Supported by the industry's leading businesses, speakers, exhibitors, and sponsors involved in social media, Internet marketing, search engines, and online advertising, Pubcon Las Vegas 2013 will offer a week-long exploration of the future of technology from Google Plus and Pinterest optimization to the latest online marketing studies presented by many of the world's top new media innovators.
With so much social media immersion on tap, Pubcon Las Vegas 2013 is a unique must-attend event for both corporate Internet professionals and independent webmasters who are serious about staying ahead of the curve in the quickly changing optimization and new media marketing industries.
Over more than a decade Pubcon has gained a growing reputation as the conference of new media and optimization industry leaders with game-changing ideas that both attendees and speakers look forward to for its top-notch learning and networking opportunities, and Pubcon Las Vegas 2013 is expected to be bigger and better than ever before.
For more information about the conference, contact Brett Tabke at 512-231-8107 or brett(at)pubcon(dot)com.
For more details about sponsorship and exhibition opportunities, contact Conference Director Jeff Randall at 512-686-1295 or jeff(at)pubcon(dot)com.