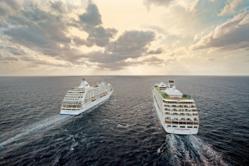 This is a great time to book Regent Seven Seas with us!
Woodland Hills, CA (PRWEB) June 19, 2013
Now may be the best time to book your 2013 or 2014 luxury cruise vacation. Luxury Cruise Experts, a team of luxury travel specialists within Woodland Hills, CA based travel agency FROSCH – Classic Cruise and Travel, has teamed up with Regent Seven Seas Cruises to produce a set of offers that span the globe. Sailings within Europe and the Mediterranean, South America, and Asia are the primary focus, with special dates on exotic itineraries and even holiday sailings included.
"This is a great time to book Regent Seven Seas with us!" commented Susan Reder, Managing Partner of FROSCH – Classic Cruise and Travel. "We have some phenomenal dates with locked in low rates and very generous shipboard credits, plus a special offer we'll tell you about when you call! On top of that, Regent has some great promotions in the marketplace including great deals on business class air and reduced rates for children travelling with their families. Regent creates an amazing family experience, which is somewhat unique for a luxury brand."
Regent Seven Seas Cruises sets the standard for All-Inclusive Luxury Cruising. Airfare, shore excursions, all beverages on board ship including fine wine and spirits, prepaid gratuities, a 1-Night luxury hotel package, and no additional charge for specialty restaurants are among the standard set of inclusions.
The Luxury Cruise Experts know Regent's product through and through. They have sailed with Regent numerous times and can share insights that will help you select the right ship and the right itinerary. Combined with extensive destination experience, these specialized agents help discerning travellers get the best deal on the cruise that best suits them. "All of the Luxury Cruise Experts have cruised extensively and have travelled the globe. They know the ships and how to select the right cruise for each customer. Plus, they really know the destinations which dramatically enhances the vacation experience for their clients! They have the insider tips that will put your vacation over the top!" added Susan Reder.
More details and pricing information can be obtained by calling Luxury Cruise Experts toll free at 800-563-2238. Detailed information, including a searchable database with over 16,000 cruise offers with itineraries, destination information, and pricing, can be found online at http://www.LuxuryCruiseExperts.com.
About Luxury Cruise Experts
The Luxury Cruise Experts team is made up of the most experienced cruise travel agents within FROSCH – Classic Cruise & Travel. Each agent has many years of experience with all of the cruise brands they represent. Most of the Luxury Cruise Experts have sailed over 60 times! On top of firsthand information on the cruise lines, the Experts team is made up of agents whose destination experience spans the globe. They'll become your advocate, working first to understand your needs and desires, and then putting that knowledge to work in order to secure the best deal possible for you. The agency is a top producer and close partner with each cruise line, allowing us access to deals many other agencies cannot obtain. To learn more, visit their website at http://www.LuxuryCruiseExperts.com or contact an Expert directly at 800-563-2238.