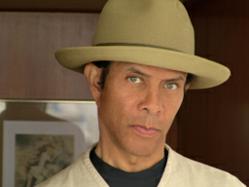 "I have something to say now. I feel that more than ever," says Abbott.
San Francisco, California (PRWEB) June 24, 2013
Mojo Man Entertainment presents internationally acclaimed artist songwriter and producer Gregory Abbott and his newly revised website.
Platinum artist Gregory Abbott's late 80's mega hit "Shake You Down" blasted all the charts that were available then. For those not familiar with Abbott, his is a unique blend of Pop/R&B with a splash of Caribbean. He has always been a favorite for romance and "quiet storm" moments, and indeed he says "he always will be". Check out his new R&B/Soul tracks "Rhythm Rhyme", "Without You", and his Caribbean interpretation of the classic "Handyman". For those who've missed his presence and the high quality of music he is so well known for and have wondered what has kept him silent so long, he simply answers, "I have something to say now. I feel that more than ever."
Abbott holds advanced degrees. He took a break from the music industry to work on his PhD and as he says "get a life"; but his catalogues of songs have given him a comfortable one by any standard. For the past several years he has concentrated on social media. He's released a multitude of digital singles and written songs for film and television as he has found this to be an effective way to reach his numerous fans. Abbott has released a compilation of some of these singles on Spectra Records ("Drop Your Mask" 2010), and plans a new release in the fall entitled "Smile of a Woman". He ranks currently in the top 1% percentile in popularity for R&B/Soul artists on Reverbnation (and climbing).
But Gregory Abbott is more than the typical American R&B act as he draws a fresh new mix of fans in this multi-cultural age. He is a dual citizen of Antigua and is proud of his multi cultural heritage. There is an uplifting and thoughtful aspect to his music now that reflects this. Both time and experience seem to have entered his writing. Songs like "Things That Mean The Most 2 Me", "Miracles" and "Seasons Change" (all new singles) demonstrate an awareness of what is important while not being preachy. Timeless music still thrives.
Quotes:
"Abbott's Eyes, Whispers.... is infectious, sultry, seductive." - Rolling Stone Magazine
"Abbott has the soul of Al Green, the movie star good-looks of Denzel and the man can sing!" - Black Radio Exclusive
"When Gregory Abbott sings, people listen." - People Magazine
Highlights:
Four Top Ten Hits
#1 Billboard
Two Soul Train Awards
Four New York Music Awards
Winner - Tokyo Music Festival
Two CEBA Awards (Communications Excellence Aimed at Black Audiences)
BMI Pop Song of the Year
Note: The Standard "Shake You Down" reached one million radio air plays faster than any other song in BMI's history. BDS reports over 3+ million plays to date.