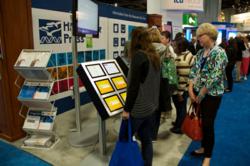 We are improving the ways an exhibitor can touch the targeted audience within the increasingly competitive trade show environment.
Cold Spring Harbor, NY (PRWEB) June 19, 2013
The Sync3 Technology platform engaged an unprecedented number of conference attendees at the recent 38th Annual Congress of the Oncology Nursing Society, held in Washington, DC. The conference attendees—oncology nurses and clinicians—used the platform in the exhibit hall to access clinical content and test their knowledge in a competitive interactive game.
Sync3 Technology arranges the synchronization of multiple tablet computers, including iPads and Android- and Windows-powered units, into a large, scalable display, while allowing each individual tablet to retain its own independent functionality. Winner of a 2012 Healthcare Convention and Exhibitors Association Best in Show Award, Sync3 Technology "allows exhibitors to reach their audience in two ways," said Anthony Cutrone, President of Harborside Interactive (HSI), developers of Sync3. "Users can passively watch a beautifully rendered video or interactive game displayed on the iPad array, or they can actively use a single tablet for a deeper connection to the exhibitor's products or message. With either method, we are improving the ways an exhibitor can touch the targeted audience within the increasingly competitive trade show environment."
At the ONS Annual Congress, HSI faced several objectives:
1. Capture accurate lead information from attendees
2. Engage attendees with the exhibitor's content, a peer-reviewed, clinical journal for advanced-practice oncology nurses (Journal of the Advanced Practitioner in Oncology [JADPRO])
3. Collect information from attendees about knowledge gaps for use in developing future editorial content for the journal
Harborside Interactive developed a number of solutions to meet their goals at the meeting:

JADPRO Challenge: using six iPads at a time, users were led through the Sync3 array to answer a series of oncology-related questions. Players were timed and their score was displayed at the end of the game.
Lead retrieval: Utilizing the cameras on each of the iPads, HSI was able to scan attendees' badges for registration for the game and a free subscription to the journal.
Virtual issue: Once engaged with the system, attendees were able to select from a variety of popular articles in JADPRO. The articles were then e-mailed in PDF form to attendees as their own personalized issue of JADPRO.
Survey: Attendees also had the option to take a short survey regarding their practice habits.
Sync3 Technology includes a number of customizable, interactive features for exhibitors, including the integration of existing content (such as product information or videos), data share and capture (using the tablet's built-in camera), shopping cart capabilities (for delivery of customer-selected exhibitor product information), and crowdsourcing options (such as quizzes, polling, and goal-oriented project development). There is also the option for interactive games played across the entire array of iPads, within an individual iPad, or pitting one tablet against another.
For more information about Sync3 Technology, please contact David Horowitz (631-935-7652; david(at)sync3tech(dot)com), or visit http://www.Sync3Tech.com.
About Harborside Interactive
Harborside Interactive (HSI), a division of Harborside Press, LLC, is a developer of digital solutions for the pharmaceutical, biotech, and manufacturing industries, as well as medical media companies and tradeshow exhibitors. HSI has experience in Web development, mobile application production, content management systems, relational database administration, and clinician- and patient-targeted communications, closed-loop marketing, online CE/CME, virtual meeting and convention solutions, mobile- and PC-based gaming, social network–based strategies, and analytics, as well as working with internal and external regulatory requirements.
About Harborside Press
Harborside Press is a specialty medical publishing company based in Cold Spring Harbor, New York. Harborside Press is the publisher of JNCCN–Journal of the National Comprehensive Cancer Network and the Journal of the Advanced Practitioner in Oncology, and also publishes The ASCO Post under a collaborative arrangement with the American Society of Clinical Oncology. For more information on Harborside Press or HSI, please visit http://www.HarborsidePress.com.
# # #