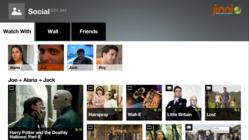 You may have hundreds of friends on social networks, but only a few have similar taste in TV and movies.
Tel Aviv, ISRAEL and New York, NY (PRWEB) June 19, 2013
Video content discovery solutions provider Jinni, announced today the release of 'Watch together", the first effective social discovery feature to recommend content that suits the tastes of more than one viewer. The feature is part of the latest Jinni discovery engine API, and is now available for implementation by the company's global customers and technology partners.
Based on Jinni's unique semantic taste profiling of each user, the engine is able to recommend something to watch that will suit all the household members who want to watch TV or movies together. The new 'Watch together' social discovery feature can also be used to find a group of friends for group watching, either via online social viewing applications or at a movie theater. For example; if you want to go see a particular movie, Jinni 'watch together' can scan all your friends on Facebook and recommend those who are also highly likely to enjoy the particular title.
"You may have hundreds of friends on social networks, but only a few have similar taste in TV and movies." said Jinni Co-founder & CEO, Yosi Glick of the new feature. "TV is a naturally social experience and 'watch together' was developed to harness the power of social networks to find the perfect content and friends to watch it with, so people can stop wasting time searching and spend more time enjoying great shows and movies." This latest API reflects Jinni's commitment to effective social TV features that cut through the noise of social networks and provide a superior user experience.
The Jinni gene-based discovery solution has differentiated itself from other engines by taking content analysis and unique user-centric recommendations to the next level – with natural language understanding capabilities, Jinni meets the growing consumer demand for a semantic cross-platform experience.
About Jinni
Jinni is the first and only taste-and-mood based engine powering entertainment discovery. Using content genetics and nuanced understanding of user tastes, the Jinni engine powers a uniquely intuitive and personalized experience that increases content consumption and consumer satisfaction.
The Jinni service is powered by the Entertainment Genome™, containing thousands of genes that are assigned to each title to describe mood, style, plot, setting and more; this is a rich alternative to the usual genre language, which benefits both the quality of the content delivered as well as the intuitive semantic-based user experience. New titles are automatically indexed via analysis of user reviews and synopses, using a proprietary Natural Language Processing solution.
Jinni's content discovery solution has been voted "Best Product Idea" by CableLabs. Jinni is a Webby Awards honoree, a Red Herring 100 Europe winner, an OnHollywood 100 winner, a SXSW Web Awards nominee, a TechCrunch Europas nominee, a finalist in the 2012 Connected TV Awards for Outstanding Technology Innovation, and was selected as the best movie recommendation engine by CNET and Lifehacker. Jinni provides content discovery and recommendation solutions to European content providers Belgacom and Prisa TV. To see Jinni's award winning engine at work, visit http://www.jinni.com.