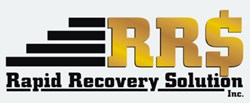 Bohemia, NY (PRWEB) June 23, 2013
On June 23, 2013, John Monderine, CEO of the New York-based accounts receivable collection agency Rapid Recovery Solution, offers input on how recent graduates can overcome hurdles in paying for student loans.
According to a June 17th article from the [Buffalo News, "Can't pay student loans? Check out your options," discusses the difficulties recent college grads encounter when making student loan payments. While recent graduates have a six -month grace period until payments kick in, many grads find it tough to balance student loan payments and other basic expenses, such as housing, food, car payments, etc.
While defaulting on payments will incur penalties for a consumer, the article reports that grads under the government's direct student loan program allow individuals to defer payments if they are unemployed or if have a job that doesn't adequately cover the monthly payments. This lets individuals receive lower monthly payments. Once the student's pay increases, he or she will have to make larger payments according to the adjusted income.
While recent graduates can make income-based repayments, it is important to recognize that qualifying for this specific type of payment is predicated on income and not lifestyle choices, says the article: "If your pay is adequate for payments under the federal formula, you won't get a reduction in payments simply because you are paying too much for an apartment or car."
John Monderine, CEO of the collection agency Rapid Recovery Solution, believes it is important to keep in mind that income and lifestyle are two different measures to assess a living situation. "It is tough to be a recent graduate and find a job, let alone a good paying job, to pay off thousands of dollars in student loans. While recent grads can pay off smaller chunks of their loans each month based on their monthly income, it shouldn't be mistaken as a way to subsidize their lifestyle choices. Just because an individual has difficulty in making other payments doesn't mean you will get a break in paying back loans. It is based on whether your income will allow you make full payments."
Monderine also suggests a few ways to keep lifestyle choices in check. "Make sure you are not dedicating more than 30% of your monthly income to housing and not more than 10% of your monthly pay to car payments," he says. "If you end up paying more than this percentage, it will harder to keep up with monthly student loan payments. Stick to these percentages or preferably less and it will be much more manageable to make other necessary payments, such as student loan bills."
Individuals who have had a harder time finding a job should look to public service careers, such as the military, nursing and teaching, as federal loans will be waived if you choose one of these fields.
Founded in 2006, Rapid Recovery Solution, Inc. is a leading collection services agency headquartered at the highest point of beautiful Long Island. Rapid Recovery Collection Agency is committed to recovering your funds. We believe that every debtor has the ability to pay if motivated correctly. We DO NOT alienate the debtors; we attempt to align with them and offer a number of ways to resolve not only your debt but also all their debts.