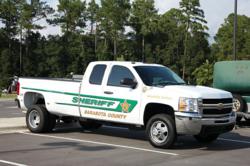 The county is among the growing number of governments across the country that recognize the value in outsourcing their accident management activities.
Trevose, PA (PRWEB) June 18, 2013
The CEI Group, Inc. has agreed to provide accident management services for the 3,000-vehicle fleet operated by Sarasota County, Florida.
The contract, initiated by Sarasota County Risk Management, calls for CEI to manage collision repairs for the county's entire fleet and includes vehicles in its sheriff, fire, transit and fleet departments. Repairs will be conducted at collision repair centers participating in CEI's managed network. CEI's quality control department, staffed by licensed physical damage appraisers, will review all estimates for cost control, savings and timeliness, with CEI fleet operations representatives monitoring all repairs for timely completion.
"We're pleased to add Sarasota County to the growing number of governments across the country at the city, county and state level that recognize the value in outsourcing their accident repair activities," said Kathi Croze, CEI's national manager of the government fleet market. In addition to central warehousing of vehicle claims data, Ms. Croze said, the program allows government fleets to save staff time in administering and monitoring repairs. Now, through CEI's online client application, ClaimsLink™, she said the county's entire accident management process will be streamlined: fleet personnel can approve repairs, view the claims process and access complete program data and reports, all at the click of a mouse.
Sarasota County is located on Florida's Gulf Coast, some 40 miles south of the Tampa-St. Petersburg metropolitan area. According to the 2010 U.S. Census, Sarasota County has a population of 379,448.
About The CEI Group, Inc.
CEI is a leading provider of technology-enhanced vehicle accident, driver safety and fleet risk management services. Its provider network consists of some 4,000 collision repair shops in North America, and includes nearly 900 truck collision repair centers. Its customers include self-insured, commercial, institutional and government fleets, directly and through alliances with fleet leasing companies. CEI also provides vehicle direct repair program outsourcing to leading property and casualty insurance companies.