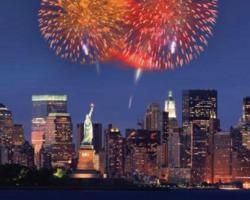 We want to give our customers the most memorable Independence Day experience possible
New York, NY (PRWEB) June 20, 2013
New York City is an inseparable part of America's rich history. The city's distinct blend of culture, people and political history make it a central part of the American story. From Ground Zero and the new Freedom Tower, to the Statue of Liberty and Ellis Island, New York City has no shortage of patriotic sights to explore. That's why NYCTrip.com has put together a one of a kind vacation package that honors America's independence in a city that perfectly embodies its freedom.
"We wanted to offer our customers a distinctively 'New York' twist on the traditional 4th of July barbecue and fireworks," says NYCTrip.com founder Barry Tenenbaum. "Our Independence Day package is a truly unique way to celebrate the holiday, while enjoying all the sights the city has to offer."
The New York City vacation package offers visitors the opportunity to elevate the conventional 4th of July barbecue, by enjoying a rooftop cookout at the Hudson River Terrace. Guests will enjoy their cookout favorites, while taking in magnificent views of the Hudson River. After lunch, a certified NYC tour guide will take guests on a sightseeing tour of historical lower Manhattan, explaining the history behind some of New York's most recognizable sights.
In the evening, guests will experience the world renowned Macy's fireworks display from the deck of Miss New York. Statue Cruises' Fireworks Cruise gives visitors a uniquely American perspective on the Independence Day celebration. The fireworks provide a dramatic backdrop to picturesque views of the Statue of Liberty. Guests aboard the cruise will also enjoy a light dinner buffet and musical entertainment.
"The real highlight of this vacation package is the fireworks display," says Tenenbaum. "We want to give our customers the most memorable Independence Day experience possible, and the views of the Statue of Liberty and Manhattan skyline from the Upper Bay simply can't be beat."
The 4th of July vacation package also includes a choice of midtown Manhattan accommodations, as well as free admission into some of New York City's most iconic sights, including the Empire State Building and the Metropolitan Museum of Art. For more information about the complete two night package or to make reservations, visit NYCTrip.com.
About NYCTrip.com
The New York City vacation package experts at NYCTrip.com have been providing tried and true travel advice since 1983. As the only major independent tour company devoted exclusively to NYC travel, NYCTrip.com prides itself on offering New York City Hotel Packages, Broadway Show Packages, Tours of New York City, NYC Restaurant Deals, and more. Price your ideal NYC vacation package through their easy-to-use NYC TripQuote online booking engine.